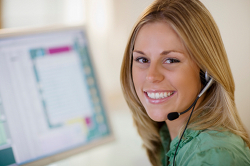 I was on the phone with a company receptionist the other day, trying desperately to reach someone in sales or customer service. Trouble is, the person I was speaking with could not have cared less about me or my needs. She kept repeating that she had no idea where anybody was, she could not leave her desk and all she could do was put me through to voice mail. You can imagine how that encounter made me feel about the company and their products.
In the corporate world, it's conventional to believe that the person answering the phone is the lowest person on the totem pole. Worse yet, many companies believe we can replace receptionists with automated attendants: ring the doorbell for service or dial by extension.
Me, I'll always have someone answer our main line because most people calling Matrix Group are customers who need help or prospects who need our services. So you better believe I want a warm, friendly, knowledgeable and committed person answering our phones! And because it's not always clear to people who does what in a Web agency (do you talk to the programmer or a front-end developer or the PM about an error on your admin site?), a good receptionist can field and route calls efficiently.
My Creative Director Alex Pineda says that every employee is a brand ambassador for the company. So my receptionist, as the person who perhaps has the most contact with the most people, is arguably the most important brand ambassador I have. Which is why her title is First Impressions Officer. The other admins in the office, who also share customer interaction responsibilities, are equally important brand ambassadors.
Scott Spanbauer defines a brand as "more than just your company image. It also includes your customers' experience and the expectation you set when doing business with your company. In short, it is (a) promise."
As a CEO, I may set the tone for our corporate culture and brand, but it's my staff who live and reinforce it with our customers. Company owners everywhere, remember that your customers' experiences start with the person who answers the phone and greets people at the door.