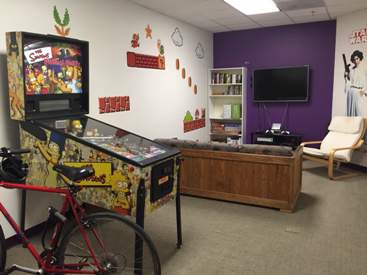 A couple of weeks ago, I held a Town Hall meeting with my staff to discuss office space. Our office lease is expiring in less than 2 years, so our Realtors recommended that we look at space around town but also consider how we would like to improve our current space should we decide to stay. During the Town Hall meeting, I asked staff for their blue-sky ideas. If time and money were no object, what would our office look like? How would it be configured? How would it encourage the type of interactions and collaboration that we seek? How do we meld cool with functional?
We came up with some ideas that are probably way out of our price range. Everything from a completely configurable office with movable walls, desks and chairs, to blowing out the ceiling, to all-glass walls that provide privacy with a push of a button.
But we also came up with ideas that are totally within reach. Today. With minimal budget. So we have set about implementing many of the ideas because, regardless of whether or not we move, we're going to be at 2711 Jefferson Davis Highway for another 18 months. We might as well improve our working space. What have we done? We:
Gave the kitchen a makeover by putting in matching furniture, tossing out the clutter, and reconfiguring the storage space.  We also put in some new artwork.
Cleaned up the game room and made it cool again. Honestly, it was looking downright dumpy and not fun-friendly.
Created a new space for the morning stand-up meetings. One where we can actually stand and write on the walls.
If you've been following my blog all these years, you know that I often draw parallels between managing a website and managing a home or office. Here's what our new office envisioning process reminded me:
Don't wait until you need to do a major redesign to make improvements to your site. Think in terms of optimizing and improving sections of your site every quarter. At Matrix Group, we take a section of our site, review the analytics and make tweaks every quarter.
Declutter on a regular basis. Old, outdated content and run-of-the-mill clutter is deadly. After a while, you don't even see it anymore. So on a regular basis, look at your website with fresh eyes. Is your website just a dumping ground for old content? Get rid of it. Old content simply clutters your search results, confuses visitors and makes your site feel outdated.
Ask your staff and members what's working and what's not. Get a few concrete ideas for making individual sections or a page better, then act on them quickly. Be sure to let your stakeholders know that you listened and implemented some of their ideas.
Experiment with inexpensive ideas to test out different concepts. For example, my staff have asked for different collaboration areas. But they're also asked for isolation rooms where they can work uninterrupted for periods of time. Before we invest in construction, we're testing out some ideas using empty office space. Before investing a lot of money in community tools, databases, etc., think of el cheapo ways to test out ideas.
Paint does wonders. It's been a couple of years since we painted walls and touched up scuff marks. It's amazing what a fresh coat of paint will do to a space. Same goes for your website. Update the photos. Redo some headers. Update the tired conference template. Your members will notice and pay attention to your marketing messages with fresh eyes.
I'm going out with the Realtors this week to look at space. I don't know what the Matrix Group office Version 5 will look like, but I predict there will be lots of purple.