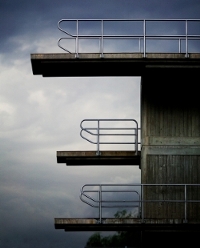 What do the iPhone, Facebook, Twitter and Google have in common?  They have great platforms that have contributed greatly to their success!  What's a platform and why does it matter?
Wikipedia defines a platform as "a place to launch software. It is an agreement that the platform provider gave to the software developer that logic code will interpret consistently as long as the platform is running on top of other platforms."
I'm convinced that Facebook zoomed past MySpace because it launched a developer platform earlier.  The developer-friendly platform lets developers create zillions of cool apps and suck more of our time, energy and loyalty.  How many quizzes have you filled out on Facebook?
The iPhone is no different.  Apple opened up its platform, hosted a user-friendly store and nine months later, iPhone users had downloaded 1 billion applications, most of them free or under $5.  My husband says he can purchase or download apps for his Blackberry but it's not easy and the apps are on multiple sites.  No fun at all.
Twitter's platform lets developers capture streams of data from the millions of tweets posted every day.  Born from these streams are apps that let us visualize tweets, manage tweets, search tweets, map tweets.

Finally, the Google  app engine lets developers build and host applications on the Google infrastructure. Here at Matrix Group, we created a Google Earth app that lets us visualize where network traffic is coming from and we use the Google Maps API to plot the location of association members, George Washington portraits, and more!
There are lots of other companies that host platforms, but to me, it's been interesting to see how a company like Apple, a company NOT in the phone business, redefined the mobile phone.  The open platform movement also feels like an extension of the open source movement; both capitalize on the skills and interest of lots of dispersed developers to create a larger, more dynamic and more interesting whole.
So how did I become a cool kid?  I had been coveting the iPhone for a long time but I refuse to switch my service to AT&T.  For Mother's Day, my husband and son got me an iPod Touch.  Yep, I spent part of Sunday downloading apps for my sleek, new Touch.  Yippee!  I'm officially a cool kid.  Don't forget to send me your favorite iPhone apps.