So your organization has decided to redesign its website. Who should be involved? Who should be in charge? And who should make the decisions? I get these questions a lot from senior executives who want to know how to structure their web team, who should be ultimately responsible for the success of the project, and how much staff time should be allocated to the effort.
Who Should Be Involved?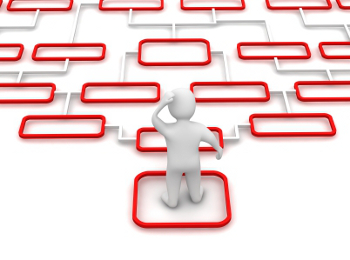 Since websites represent your organization online and visitors expect to interact with all departments, it makes sense that there be involvement from throughout the company. But how to achieve this without creating committee gridlock? My recommendations are:
Invite as many people as you can to the kickoff meeting. The kickoff tells the whole company that the project is happening, what you want to achieve, and that you need their help. If possible, the CEO or someone suitably senior should be in attendance; this will let everyone know that the project is important and they should pay attention.
Arrange to interview at least one person from every department, functional group or constituency. These interviews will give you valuable insight AND build support for the project.
Don't involve a large group in the day to day workings of the project; this will only slow you down. Do, however, arrange for periodic reports to your larger web team. You don't want someone, somewhere, bringing the project to a screeching halt because you "didn't talk to them" or you didn't keep them in the loop as you made decisions.
Ask for volunteer beta testers. You will likely not get a lot of volunteers but the ones who do volunteer will be motivated and proactive, so get their help!
Who Should Be In Charge?
This is a tricky issue. Some organization put IT in charge, while others put  Communications, Marketing, Customer Service or Membership in charge. I think it's a mistake to put IT in charge. Yes, IT will have the most facility with the technologies, but putting IT in charge of a redesign is like putting IT in charge of your membership marketing or print materials because they involve databases and computers.
At Matrix Group, our most successful projects have been ones where:
There was a trio in charge, each representing an important constituency: subject matter experts, IT and senior leadership.
or IT was in charge of the process but subject matter experts were heavily involved and made the final decisions.
and the project manager on the client side was well connected in the organization, well liked, ran a great meeting, and able to help groups achieve consensus.
and there was high level senior sponsorship of the project. These senior staff members kept the senior leadership team informed and paved the way for resources from throughout the organization to be made available to develop content, test the website, etc.
Who Should Make the Decisions?
Another tricky issue. The answer is usually "it depends on the decision to be made." In our experience:
It works well to get buy-in from a larger group when discussing navigation and content elements.
It works well to have the larger web team review and approve the overall design direction, copy writing style and content strategy. It's really, really important that the *entire* organization be on the same page here.
The CEO or Chief Marketing Officer (or equivalent) should make the decision on the design and copy writing direction. And it's always a good idea to brief the CEO and senior leadership team at regular intervals during the project.
The smaller web team should make the hundreds of decisions about layout, content placement, search, etc. Getting a committee to agree on these minute details will make the site build process torture.
Give each department the final say on their portion of the website, as long as their changes fall within the overall design parameters of the project. Which  means GR or Convention can't decide to use a different font or color palette.
How about you? Who do YOU think should be in charge? What has worked for your organization?