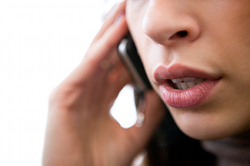 I got a voice mail from a vendor the other day. He left me three numbers and the best times to reach him at each number.
One of my Project Managers said she was having a tough time reaching a client. I suggested she try the client's cell phone since that client is almost never at her desk but she's almost always available via cell phone.
I have a friend who almost never answers his phone, but if I send a direct Tweet, I get an instant response.
Egads. With all of these communication channels, what's the best way to reach someone these days?
On any given day, I check multiple devices for voice mail, e-mail or text messages: work e-mail, personal e-mail, home phone, work phone, cell phone, Twitter and Facebook. Some of these channels overlap.  For example, direct messages on Twitter, Facebook messages and work voice mail all end up in my e-mail.
But with so many devices to check for messages, I invariably favor certain methods (work e-mail, work voice mail and cell phone), to the detriment of others. Case in point: I completely missed a friend's voice mail on my home phone because she called while I was upstairs with the baby one Sunday. Since I was home all day, it never occurred to me that I might have missed a call, so I didn't check voice mail for several days. Eeek.
Many of my friends and staff have consolidated communications on their cell phones. They have no land line at home and do everything on their smartphone. But my husband Maki and I won't give up our land line because in an emergency, my trusty land line phone (an AT&T Trimline 210 from 1989) that does not need a power source will still work (unless the central office is out).
I thought Google Voice would save me. Google Voice gives you a phone number that's tied to YOU, not the device. Currently, I have a Google Voice number that rings on my cell phone and home phone; by the end of the week, it will also ring my direct extension at work. I can program Google Voice to ring on specific phones during certain hours of the day. And I can make free calls anywhere in the US and around the world to other Google Voice subscribers. Pretty cool. Currently, only Maki, my mom and the nanny have this number because they're the people who MUST reach me when they NEED to reach me. But here's the rub: Google Voice gives me another mailbox to check! Ick. I hope I managed to disable that feature.
All of this thinking about how to reach me and how to reach other has got me thinking. Are we making ourselves crazy by always being reachable and having the expectation that everyone should be reachable at all times? If you're an NCIS fan, you know that Gibbs' Rule #3 is "Never be unreachable" so I guess I need to continue diligently checking e-mail, voice mail, text messages and social media messages. <sigh>
How about you? What's the best way to reach YOU? And how do you let friends know the best to reach you?