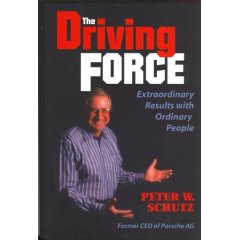 At a recent CEO forum, I had the pleasure of meeting Peter Schutz, former President of Porsche AG and author of the book "The Driving Force: Getting Extraordinary Results with Ordinary People." Peter calls himself the former king of Porsche because, as he put it, Porsche is a cult, and when you become President, you become King.
I was captivated by Peter's stories about Porsche's turnaround during the early 80s. He
talked about the 24 hour Le Mans race that began the company's turnaround. Porsche was not expected to win; the company was broke and did not have a new car to showcase. Peter told his staff, "We shall never enter a race we don't intend to win." And with that edict, the company rallied and ultimately won the race.
Peter's message: As CEO or President of an organization, you need to be the Leader, and here's what it takes to be one:
To get ahead, use leadership to get extraordinary results from ordinary people
As CEO, you have the organization you deserve. You hired the people, you trained them, you set the expectations. If you don't like your organization, change it
If you don't want to be in a commodity business, you need to Innovate. But you can't afford to be innovative if you do not have the ability to keep score and make gentle corrections along the way
As CEOs, we must:

formulate plans that are timely and have quality
and having completed a plan, we must implement that plan

A really great plan, implemented well, has the potential to change your company. But many of the people in your organization, on whom you are counting to implement the plan, may not be able to visualize the plan. It is up to the CEO to communicate the grand plan
When you achieve something unique, price it properly; do not give away the store
Plan like a democracy, implement like a dictatorship
Many of these words of wisdom, for all Leaders out there, I'm sure you've heard or read before. But how many, have you actually put into practice? Are you doing all that it takes to be the leader of the organization you dream of?