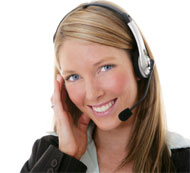 The National Electrical Contractors Association recently launched a new website. Dramatic improvements were made in navigation, authentication, visual design, etc. These improvements meant change; never mind that they're all positive, it's still change.
Matrix Group anticipated the typical human behavior — resistance to change — and recommended setting up live support to hedge off any frustrations when users discover that their favorite button is not there anymore or the link they always click on has been moved. We implemented LivePerson because it's easy to set-up, user-friendly and inexpensive. The results have been terrific. Adrianne, the staffer behind the NECA live support function, reports:
About 10 people initiate a live chat session every day; about half never responded back to her initial hello; the other half have questions about logging in, where to find something, or how to use a specific application.
Visitors really appreciated the instant help.
She loves seeing how many people are on the site, how long they have been on, and where they are clicking. Occasionally, if a person looks stuck on a page, she will initiate a live discussion to offer assistance. The reaction has been very positive.
She does feel a little chained to her desk, but it's easy to switch the message so that visitors can send a request for help, rather than initiate a live chat. She always turns off live support during lunch.
I wish more sites would turn off their live support when it's not manned. It's frustrating to click on 'live support,' then wait for a response (how long should you wait?) and wait some more…… until you realize there's no 'live' body on the other side.
Several other Matrix Group clients are using live support to provide technical assistance for their Web-based applications and customer satisfaction has greatly improved. I guess there's still a lot to be said for that live interaction. I only wish we could switch out the cheesy photo on the live chat page.