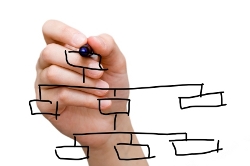 If Matrix Group is creating a new Web site for you or updating an existing one, our project plan is almost sure to include development or review of your taxonomy. Taxonomy? Doesn't that have to do with biology and how we classify organisms? (you know, kingdom –> phylum –> class?)  Sort of.
Taxonomy today refers to more than the classification of organisms. Wikipedia calls taxonomy "the practice and science of classification."  A taxonomy can help you organize an unstructured collection of information.  On most Web sites, information can be organized by:
Topic – these tend to be the topics, issues and special interest of your readers, members, customers, visitors.  For example, a trade association in the auto industry might have topics related to safety, marketing, supply chain, quality.
Type – these tend to refer to the content collections on a Web site.  For example, a think tank might have news, policy briefs, commentary, testimony and podcasts.
Why do I think every site needs a taxonomy? And how do you use a taxonomy?
Different people navigate according to their needs and interests. On any given day, a journalist might want to see all of your company's press releases, regardless of topic; on another day, the same journalist might want to know everything your organization has to offer in the area of food safety.  So let same journalist navigate by both content topic and type!
Tagging content by taxonomy allows you to relate content by topic and type. So, a news item on climate change would have a sidebar containing other news items related to climate change, recent publications and meetings about climate change, and recent news items (regardless of topic).
A taxonomy allows you to connect people with their interests.  Let your visitors sign up for news by their interest areas, let them personalize their Web experience on your site, and compare the interests of your members with the content you have online.
Here are some great examples of taxonomy in action:
The Center on Budget and Policy Priorities (CBPP) tags all content by topic and type.  You can navigate reports by date, by areas of research and experts. You can also create a personal profile and personalize your experience by checking your areas of interest, indicating if and when you want to receive e-mail updates, and saving your favorite pages.
Electrical Contractor Magazine shows related articles, based on the topics associated with an article.
The National Association of Episcopal Schools created a library that lists Q&A's, documents and Web resources by topics of greatest interest to members.
Want to learn more?  Here are some good articles from Dyno Mapper, Salesforce Blog, and Strategic Content.