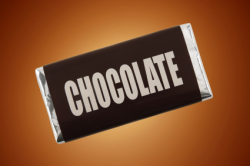 What do you do if you make candy, most of your sales in grocery stores are from the checkout lane, and RFID is poised to eliminate checkout lanes?
I attended the holiday reception of the Grocery Manufacturers Association earlier this week.  In addition to mingling with GMA staff and other sister association staff, I got to meet reps from several GMA members, including Tom from The Hershey Company.  I told Tom that Matrix Group has got to be the biggest buyer of the dark chocolate Hershey's kisses (the dark chocolate kisses are wrapped in purple foil).  Purple kisses are a staple at nearly every Matrix Group meeting because a) they're purple and b) meetings always run better when there's chocolate involved.
Tom reported that Hershey's chocolate is doing well because even during (or perhaps because of) the recession, chocolate is an indulgence most people can afford.  I asked him what's new in the business of candy/chocolate marketing and he said candy makers are in for a rough ride in the next few years because the grocery store user experience is changing dramatically. Consider this:
Most candy sales in grocery stores come from the checkout line. Why? Because most people avoid the candy aisle, especially if they're moms with kids.  So the checkout line becomes the most important place to market candy.
Grocery stores have been experimenting for years with self-checkout.  Shoppers Food Warehouse has had self-checkout for years.  Tom says we should expect self-check-out to be more common in the future.
Even with self-checkout, there's a check-out lane.  BUT, RFID promises an end to the checkout lane as we know it. Last year, for example, Microsoft announced a digital grocery cart that lets shoppers access grocery lists created at home, receive targeted coupons, and scan products as they go into the cart.  With the digital shopping cart, the checkout lane becomes a payment lane; no more waiting, no more scanning.
Yikes and wow!  So if you're The Hershey Company, Mars or Wrigley, what do you do?  What kind of R&D and marketing initiatives do you start developing now — for the day when checkout lanes are gone forever or at least changed dramatically?

As I thought about candy makers, I realized that grocery stores and manufacturers have been significantly affected by the decline of another industry:  newspapers. Think about it.  Newspapers(especially the Sunday supplement) used to be the way consumers learned about store sales and coupons.  With fewer people subscribing to newspapers, how do they promote their products and promotions? Today, there are zillions of Web sites and mobile apps that will tell you about in-store promotions, offer you coupons and even comparison shop for you. Great for consumers, but a confusing landscape for marketers, for sure.
Finally, if candy makers are being affected by the demise of the checkout lane, what happens to the tabloids and magazines? I think the only time I pick up Southern Living or People is when I'm in the checkout line and passing time.  Ugh, another blow to the publishing industry.  (Hmmm…. did I really admit to my blog readers that I read People?)
How about you?  What technologies on the horizon could significantly impact your business?  And what are you doing about it?
Finally, do you buy candy in the checkout lane?  How will your candy purchases change if and when checkout lanes disappear?  Inquiring minds want to know…