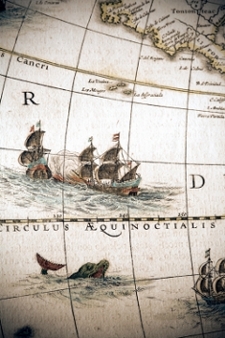 At a recent Vistage meeting, I had the pleasure of hearing Tom Searcy, author and CEO of Hunt Big Sales, a sales consulting and training company, talk about how small businesses can land big sales that will transform their companies. Tom likens the process to whale hunting, which:  requires planning and skills, can't be done by one person (it takes a village, actually), and can keep a large number of people fed (or employed) for a long time.
Tom says that whales are like large companies and we all know that large companies usually buy from other large firms because they:
Are perceived as having more resources
Have a more well-known brand and reputation
Speak the language of whales
Represent less risk and more security
We've heard it before: "nobody gets fired for picking (fill in large company name)."  So how is a small business supposed to compete against the big guys? Tom says that large companies pick small companies when they are looking for an advantage in their business, specifically:
Innovative solutions that are usually  not associated with larger, bureaucratic companies
Access to the brightest talent
Speed and nimbleness
Knowledge of a niche market
A relationship with a company where they're not just another customer
Ultimately, small businesses can only the land the big sales when:
Executive management is involved in the sales process because whales will only talk to senior staff
Someone on the customer side believes the small business can help them move the needle in their business in a big way
My favorite quote from Tom:  "People only buy what they can safely sell to others, or defend if challenged. Our job as whale hunters is to equip and train the buyers to defend themselves from the attacks that will come later."
Landing a whale obviously has financial benefits to a small firm.  But there are other, intangible benefits:  attracting other whales, attracting the best staff, and transforming your company because whales require and demand a different level of staffing and service.
Who's ready to go whale hunting?