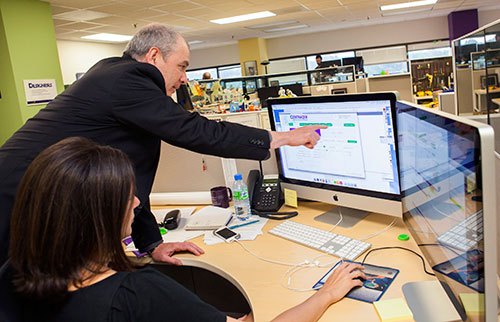 A couple of weeks ago, I attended a meeting with a client who was interested in redesigning their website. "Why?" I asked. The site looks pretty good, the site is mobile-friendly, and the analytics are pretty good. So what's driving the desire for a redesign?
The answer: They wanted to make a few changes to the home page, the content throughout the site, and a bunch of the photos. Even though a redesign would have brought Matrix Group a large project, I recommended a website refresh, not a redesign.
When should a website be redesigned? It's always going to to depend on the circumstances, but I recommend a full redesign when:
The organization is going through a rebranding because of a name change, shift in focus, drastic changes in programs and services or rethinking of its mission and market position.
The organization feels that the website no longer represents the organization.
The navigation doesn't have any bearing on what the organization stands for.
The design doesn't reflect who the organization is today.
The organization wants to update a large percentage of the content.
When should a website refresh be done? Again, it's going to depend, but I recommend a refresh when:
The organization is largely the same: same mission, same values, same general program offerings.
The website largely works, but it could use some tweaks to the navigation, the images need updating, and the content needs to be refreshed.
There are key pieces of the site that don't work, but they're not necessarily related to the overall site. For example, many prospects come to us saying that their site search is broken or they need a new member directory or store.
Sometimes, a client wants to redesign because they hate their CMS and want to move to something different. With a CMS migration, it makes sense not to just to migrate the exact site. Since we'll be touching every page, it makes sense to ask if it's also time to rethink navigation, design, integrations and search.
Matrix Group recently refreshed portions of our website. The analytics on the home page weren't where we wanted them to be, so we challenged ourselves to update just the home page. It worked. I was also not happy with our Careers landing page. Since we are always looking for the best people, it made sense to redesign just that landing page. During all this, we didn't do a redesign. We were largely happy with the overall design, navigation, color palette and tone of the content.
I happen to think it's important to tweak and refresh your website regularly, at least annually. In fact, some clients do such a good job of evolving their sites that redesigns may be a thing of the past for them.
What are YOU doing this year? A redesign or a refresh?