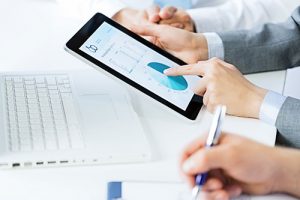 I was in a meeting with a client last week and he complained that their Google Analytics (GA) reports just aren't that useful. I asked why, and he said, "GA tells me the top pages visited on my site and that Google is referring a lot of traffic, and that's about it."
Hmm… I decided to get curious.
So here's the deal with GA. If all you do is put the code snippet in your header, you'll get generic data from GA. But if you give GA better input about where people are coming from and why, you'll instantly get better GA reports. Here's how to do that:
Never, ever send out a URL without UTM codes.
UTM stands for Urchin Tracking Module. Urchin is the company that created what is now Google Analytics; Google purchased the company many years ago. A UTM tag is a tracking marker appended to a URL, and is recognized by Google Analytics as a dimension. For example, if you send out a link to a new item on your website in an email newsletter, you could use a UTM code for source = 04-17-2016-newsletter. If anyone clicks on that link, GA will report that traffic as having come from your email newsletter. Voila! All of a sudden, you have better tracking and you know whether or not your email newsletter is generating views on your website. Yes, your blast email provider probably gives you open and click data, but it's most likely not connected to your overall website analytics reporting. Use this handy URL builder from Google to build data-rich URLs
Create redirects for your print URLs.
So what about your convention brochures? You can't exactly expect readers to type in a URL that has 100 characters. In this instance, you should create a vanity URL for each print piece (e.g., /2016convention for the brochure and convention 2016 for the postcard) and use your CMS to create a redirect for the actual page, with UTM codes that will attribute traffic to the actual print piece.
Use Google Analytics Annotations.
GA lets you add little notes to your GA reports, attached to specific dates. For example, my marketing team enters annotations every time we send out an email newsletter, post a new event on Facebook, etc. This way, if we see a spike in traffic, we can look to see if that traffic might have been generated by something we did. Of course, we then verify using the Source dimensions in GA.
Set up Google Tag Manager.
Google Tag Manager is an upgrade to Google Analytics and it helps you keeps track of the tags on your website and when they are triggered. For example, Tag Manager will let you track whether and how many people are clicking on the slider in your branding area, the number of downloads of your PDF annual report, etc. The best thing about Tag Manager is that once it's setup, you don't need to mess with the CSS on your site again; you then use a Google interface to setup tracking.
You don't need to be a developer or a CSS wizard to do the things I mention above. I will be blogging in the future about more advanced things you can do with Google Analytics, enhancements that require some programming. But in in the meantime, if you improve your inputs to Google Analytics, your analytics will be better.
BTW, Matrix Group has an Analytics practice. If you need some training, help with a specific campaign, or help getting started, give us a call.