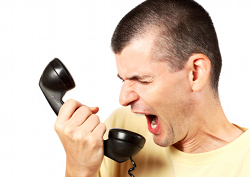 Last week, I blogged about how a social media site like YouTube represent the future of advertising. But social media can also represent the anti-advertisement: bad reviews from unhappy customers who are eager to spread the word about a company's failings. Witness the following:
As marketers, we're always trying to position or brand our companies.  But Harvard Business Review says "your brand is no longer your own" because anyone can go online and talk about your company and its offerings. And when our family, friends and colleagues talk, we listen.  A recent survey sponsored by Tealeaf.com found that "74% of online adults said negative comments read online have an influence on whether they will do business with a company."  Wow.

What's a business to do? My recommendations:
Adopt an aggressive listening strategy so you know what's being said about your company, by whom and on what platform.  Tune your Google alerts, Twitter searches and other social searches.
Become nimble with your social networking strategy and toolkit so that you can respond quickly in the event of social media storm or viral campaign gone crazy.
Make it easy for customers to give you feedback directly so that they don't feel that their only recourse is to go online and rant.  And for God's sake, take the calls and the e-mails and respond to them!
How about you?  Got a favorite customer service blog or video?  How do you voice your complaints and rants when a company has treated you badly?