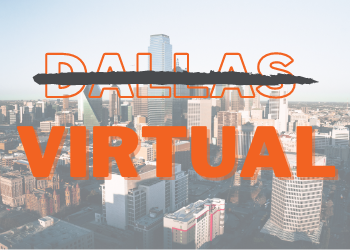 I read the email from ASAE (the American Society of Association Executives) yesterday afternoon about the ASAE Annual Meeting. Citing concerns for the health and safety of all members, ASAE Annual, which was supposed to be in person in Dallas, will once again be virtual, coupled with smaller, regional hub gatherings. Ugh. After a year of no in person meetings, I was so looking forward to this conference. I love ASAE Annual. I love the sessions, catching up with friends, the social events, the exhibits, all of it. I'm even scheduled to do two sessions: one with Elise Kuurstra from EAIE and Gretchen Steenstra from DelCor; and one on leadership lessons from the martial arts. Sigh. Who knows if I'll even have the chance to do these sessions this year.
ASAE is not alone in this decision. Many Matrix Group clients, including clients using our virtual meeting platform (BeSpeake), have decided to go virtual with their meetings, at least through September 2021.
But there's another dimension to the ASAE decision. Texas announced on March 2 that the state no longer has a mask mandate and all businesses can operate at full capacity. Perhaps some are cheering, but I'm not. I have not been vaccinated and since I have no known health risks, I figure I'll get my vaccine sometime this summer or fall. Which means I was maybe looking at attending the ASAE Annual meeting unvaccinated, in a state that doesn't have a mask mandate and is operating without social distancing guidelines. Yikes. I was going to think hard about whether or not my speaking opportunities were worth it. Since the meeting is virtual, I don't have to make any tough decisions.
While I'm bummed, I know this is the right decision. I have grounded my staff at least through the end of July. Many of our clients report that their members, especially the larger companies, have done the same.
How about you? What do you think of ASAE's decision to take their Annual Meeting virtual? What is your organization doing this year?