When we moved to our new office in Crysta City, it meant reprinting all of our marketing materials.  While it was simply a matter of updating and reprinting most of our collateral, we decided to redesign our business cards.  Matrix Group Creative Director Alex Pineda wanted to update the design with the refreshed logo and show some more personality.
Here are some sample cards that demonstrate what we were trying to achieve.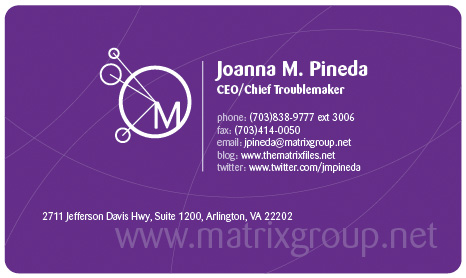 Here's my card.  The front is purple so it's easy to find on a cluttered desk or stack o cards.  The corners are curved because Alex says the Matrix Group brand is curvey, node-y.  The prominent elements are my name and title and the company Web address.  You'll also notice that my card has all the ways you can contact me:  phone, fax, e-mail, blog and Twitter.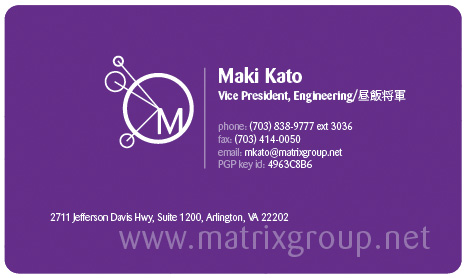 Here's Maki's card.  The general format of the card is mostly the same, but Maki's card has his PGP key ID, which is a public key encryption that allows anyone to send an encrypted e-mail to Maki; only Maki has the decryption key.  You'll also notice that Maki has two titles: one in English and one in Japanese.  Everyone at Matrix can have a serious title, a fun title or both. Maki's fun title is Shogun of Lunch in Japanese.  Other fun titles at the company are: Digital Cowboy, Idea Launcher, Master Juggler/Cat Herder, .NET Rock Star, Go To Guru, Server Sensei and Marketing Maven.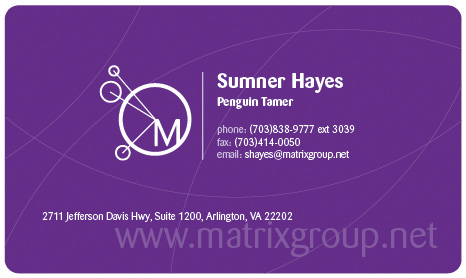 Here's Sumner's card.  Sumner's card is most like everyone else's card.  He's got contact information (phone, fax, e-mail) and simply a fun title.  Because Sumner is a longtime Linux contributor and he programs in Python on a Linux system, he's a Penguin Tamer.  Tux the penguin is the Linux mascot, fyi.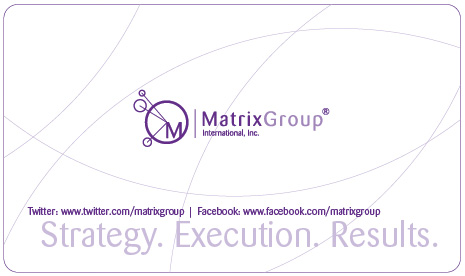 Here's the back of our business card.  The full Matrix Group logo is displayed prominently, along with our tagline: Strategy. Execution. Results.  You'll also notice that we list the URLs for our Twitter and Facebook pages. Finally, while the front of the business card is smooth, the back of the card is uncoated and white, so that it's easy to write a message. I'm famous for writing notes on the backs of business cards that I give away.  I write things like "met at ZZZ conference, call about Web design RFP" or "call for lunch."
I have to admit that the process of redesigning our cards was a bit tortuous, especially since every person had the option of adding a fun title and several of us have a different front.  However, we think the new cards are pretty snazzy and consider them to be bold, mini-brochures for the company.
How about you?  What does your business card say about you or your company? Do you think we were successful with our card redesign?