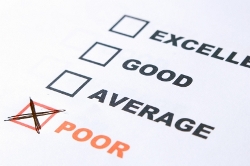 I am so mad.  I booked tickets on Spirit Airlines to attend a wedding in Mexico later this Spring.  I booked the tickets on the Spirit Airlines Web site, paid extra to check bags, even paid extra to reserve seats.  Here's the problem: their system shows us (me, my husband, my son) as leaving and coming back on the same day. I KNOW that I did not make a mistake when I booked the flights.  Yeah, okay, I should have checked the e-mail confirmation more carefully the day I made the reservation, but I only now discovered the problem, a few days later.
So I called Spirit Airlines and talked to a customer service rep.  He politely tells me that I must have made a mistake, that I bought non-refundable tickets, and he'll have to charge me to change the reservation AND I have to pay all over again to check my bags and reserve my seats. "Are you kidding?" I ask him.  "Why would I make plans to be in Mexico for less than 1 hour?  Surely you can help me out."  No luck.  The customer service rep was polite, but the supervisor was downright rude.  "There are no reported problems on the Web site," he tells me.  "I'm reporting a problem now," I tell him.  "I'm sure I didn't select the same day to leave and come back.  And shouldn't your Web site have caught that problem if I had been so stupid?"  No luck.  I'm being as nice as can be, but he's getting more obnoxious by the minute.  "You can always report a problem to corporate," he says.  Yeah, right.
So I hang up and weigh my options.  I called American Express because they have always, always, always helped me out. I talk to a terrific customer service rep who thanks me for being a "valued card member since 1989." (Note to self: American Express CRM system shows how long I've been a member.)  He listens to my story, warns me that even American Express sometimes can't help out when it comes to the airlines, but he'll surely try.  He puts me on hold for a few minutes, then comes back and reports that he's filed an investigation and American Express will try to dispute the charges on my behalf.  He can't promise anything, but how do you think I feel?  Yep, I'm filled with love and loyalty for my Gold card and the company behind it.
You know what they say about customers telling 10 people when they have a bad experience?  Well guess what?  Customers today get to tell hundreds, even thousands of people when they've had a bad customer experience.  So far, I have tweeted, updated by Facebook status, and now I'm blogging about how Spirit Airlines sucks.
A search on Google for "Spirit Airlines sucks" brings back 39,300 results.  To be fair, a search for "United Airlines sucks" brings back 136,00 results, while a search for "US Airways sucks" brings back 352,000 results.  Egads, it must really suck to be in public relations for the airlines.
Oh yeah.  There's even a Facebook group called Spirit Airlines sucks (yes, I've joined); this group has 119 members, while the official-looking Spirit Airlines Facebook group has 64 fans.
So now I have to rebook our tickets to Mexico and I'm possibly out $1,400.  Spirit Airlines just got another Spirit Airlines sucks story and they lost a customer for life, which they could have avoided for a few hundred bucks.  Who's the winner here?  American Express, definitely. Me, definitely not, but at least I got a blog post out of it.