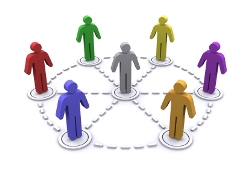 By popular demand and client request, I conducted a webinar on Tuesday with esteemed Project Manager Cat Lee from Matrix Group on "Creating a Social Networking Strategy (SN) for Your Organization." Why do a webinar on a topic that is already getting a lot of coverage?  Our reasons:  Clients are looking for help, they want to know why and how to set up their social networking toolbox, and they're looking for best practices on ways to use SN to help them achieve their overall goals.
The key take aways from the webinar were the following:
The social networking services (e.g., Facebook, LinkedIn, Twitter, etc.) complement the social networking that non-profits and associations have been offering to their members for years through meetings, e-mail discussions and bulletin boards.
It's no longer enough to have a communications strategy that includes a Web site, e-mail, direct mail and newsletters. Customers, members and staff alike are craving, indeed demanding, engagement and conversation.
Every organization needs, at the very least, a listening strategy so that you know what is being said about you, your organization and industry; you are aware of the conversations taking place between members; and you get a sense of the most pressing issues of the day for your field.
We organize the SN universe into the following platforms: networking sites; friend networks; broadcasting (with conversation); rating and recommender sytems; sharing systems; and SN community platforms.
Social networks are reaching close to 50% of all active Web users and 3 of the top 5 sites in the US (MySpace, YouTube and Facebook) are SN sites.
You can use SN to recruit staff, raise money, provide thought leadership, engage members in conversation, provide customer service, promote meetings and events, and extend the learning and networking of events.
A point we tried to emphasize is this:  your SN strategy does not need to have everything but the kitchen sink. Every organization needs to craft an SN strategy that takes into account its organization type, size, goals, and internal resources.  For example, a research organization client of Matrix Group uses its Web site to disseminate its research, Twitter to announce new research, and a Facebook page to make consumers aware of their consumer-oriented research.  This organization decided against a blog because it is a neutral organization; as such, they don't provide a whole lot of commentary on their researh.
Another client is using a CEO blog to provide thought leadership and have a dialogue with members, a Facebook page to reach younger members, and YouTube to gain a wider audience for their research and events.  Yet another client uses Twitter and RSS to engage the media, Flickr to share photos from their fabulous events, and Facebook as a way to generate leads and promote their events.
So which SN activity takes the most time?  Blogging, because it involves generating original content that provides a perspective on a topic, issue, profession or industry.  And yet, keep in mind that for every SN page that you create, you will need to cultivate readers, fans, group members, or subscribers, and that customer cultivation is ultimately where the greatest staff time will be needed.