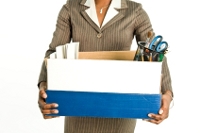 It's the holiday season but it's not a joyous time for a lot of people.  I can feel the recession everywhere.
Every time I get together with friends, someone says, "I have a friend who just got laid off.  S/he is terrific, can you help?"
A buddy who runs a medium-sized government contracting firm was asked by a government agency to submit a letter from their bank saying they were in good financial standing; this, despite a history of working together that spans many, many years.
Every single candidate we interviewed for a recent Network Administrator position had recently been laid off.

While shopping at Harris Teeter this morning, the guy at the deli counter said, "It's been really slow.  I hope it gets busy soon.  We need the customers."
Several holiday cards from friends who run businesses say they are bracing for a tough 2009.
While looking at office space for a potential move, we've seen downward movement in prices, despite Old Town supposedly being a very strong market.
After reviewing proposals, many clients are saying, "This is great, but can we scale back the scope or phase out the work over two years?"
Sign 'o the times, I guess.  I count my blessings every day.  I hope you and your loves ones are safe, warm and joyous during this holiday season.  Happy Holidays and here's to a better 2009 and a market recovery.