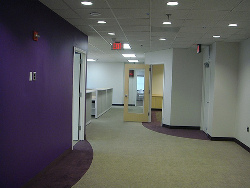 Matrix Group is getting close to moving to its new space at 2711 Jefferson Davis Highway in Arlington (Crystal City), VA.  This is the first time that we're doing a buildout and I'm looking forward to seeing how our physical space can support how we collaborate and do our work.  I've also been fascinated to realize that a construction project is like a Web site design project in many ways:
User Experience
Our construction project began with our Architect visiting our existing space, interviewing staff, and learning how people work together and on their own. This is akin to the user experience part of all of our Web projects where we look at analytics, interview staff and users, and create personas to represent key target audiences.
The space plan and architectural drawings are akin to navigation and wireframes. In our case, our Architect conducted a test fit to make sure the space would fit our general needs, then created a plan that indicated where we would have offices and where we would have open space.
Then came design. When designing a Web site, we create multiple designs over multiple rounds for the home page, sub-pages, content pages, print style sheet, etc.  For the office, we picked carpet, colors, office furniture system, lighting, and chairs.
Implementation and Budget
Just like any Web project, our buildout and move had a budget and we worked with our vendors to get what we needed, and a lot of what we wanted, within our budget. For example, we invested in a mid-grade furniture system for the staff in the open areas, and we got good chairs for everyone, but we're waiting until next year to get new desks for the managers and new chairs for the conference rooms.  We also didn't request a lot of fancy finishes on the walls.
I made sure that we spent a lot of time on the space plan and drawings, but once they were finalized, we were careful not to change our minds, undo our careful planning, or jeopardize our timeline and budget. Matrix Group ended up with a total of 2 change orders totaling about $3,000, which I'm told is nearly unheard of in construction projects.
For every change order or unexpected delay, we always asked the question, "what does this do to our budget and timeline?" I didn't want to assume anything because we have a hard August 1 move date.  Nothing could be allowed to derail our schedule.
Project Management
As with good Web design and development projects, excellent project management is key to success. I have to give our GC (Spectrum Inc, GC), the sub-contractors, our Architect (Planit Design), the furniture dealer (Office Images) the landlord, and the building management (Konterra Realty) a lot of credit.  Our weekly meetings, led by Tommy of Spectrum, were efficient and we were able to head off a couple of near disasters because everyone was engaged.
Although my participation was not required and I know that our Architect would have represented our interests well, I attended nearly every weekly check-in meeting because I'm convinced that senior staff involvement make projects move more quickly.  As a result, decisions got made fast, and there were no surprises on our part.
As of today, July 21, it looks like we're on track to move August 1.  The buildout is done, the final inspection is tomorrow (knock on wood), the phone and security systems will be installed this week, and the movers are scheduled and confirmed (including a special mover for the pool table!).  Now we just need to finish packing, but that's what interns are for. 🙂
I learned a lot from this buildout and I'm glad that we were able to take lessons learned from managing Web projects for ten years and apply them to what has turned out to be a relatively pain-free buildout and move.  If you'd like to see photos of the new office, including photos of the demolition and buildout, check out the Matrix Group Flickr feed.
How about you?  Have you lived through an office buildout or home remodel?  What lessons did you learn?  Any disasters or tips you care to share?