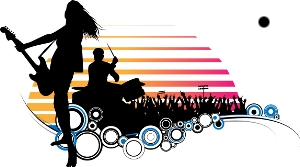 I have a rule when it comes to food: you have to try it before you render judgment. This is a rule that my husband and I have impressed on our son from the time he was little.  My mantra: Don't tell me you don't like it; you have to try it first.  In fact, I say this a lot when it comes to just about everything: food, places, experiences.  So imagine my surprise when CJ turned the tables on me and started saying, "Just try it, mama!"
I had purchased Rock Band for the PS3 a few months ago after borrowing the game from a friend and falling in love with it.  Even though I know I'm not good at it, I love to sing, so my natural inclination was to sing.  For weeks, I would practice singing and even taught CJ to sing a couple of songs (Eye of the Tiger and Tempted).  One day, CJ said, "Mama, you should try drums."  My immediate reaction was, "No, thanks, I like to sing." Then CJ said, "Mama, just try it!"
And that's when I realized I was operating in my comfort zone. I'd never contemplated playing drums in my life, much less on Rock Band.  But, wanting to set a good example for my son, I gave it a shot.  Guess what?  I'm terrible at it, but I love it.  I love it so much that I want to get better and now I want to try my hand at guitar.  Imagine that.
Fast forward to a couple of weeks ago.  I'm driving back from a weekend trip with my son, with my husband Maki in a separate car.  Maki recently got his ham radio license; he's actually passed all three tests.  He gave me and CJ a radio and promised he'd try to transmit messages to us from his car.  Since I don't have my license, I could not transmit back.  CJ said, "Mama, I want to get my license so I can talk to daddy.  You should get your license, too."  Again, my immediate reaction was "No, thanks, I have enough to do in my life without studying for a ham radio test!"
But over the next week, I got to thinking.  Why not step out of my comfort zone and go for it? How cool would it be for me to pass the test and be able to actually broadcast?  It might be kind of cool to learn about amateur radio stations, transponder signals and amperes.  And what a great message to send to my son!  So, this past weekend, I asked Maki to pull out the flash cards.  I've mastered 1/4 of the questions and hope to take the test in November.  Wish me luck.
How about you?  Have you stepped out of your comfort zone lately?  What have you always wanted to do or try and just need the excuse to do so?  C'mon, if I can study for the ham radio test, you can do something out of the ordinary as well!