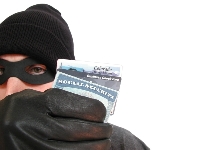 A few months ago, a suspicious charge from Carfax.com showed up on my corporate American Express card statement.  I called Amex; Amex promptly reversed the charges.  The next month, another charge appeared; I called Amex and Amex again reversed the charge but also recommended that I change my card number.  I even contacted Carfax but they said they could not provide any information on the charges, that I had to go through my credit card company.  How ridiculous is that?
So I changed my card number but the Carfax charge comes up again.  Now I was really worried.  Does the thief have access to my personal accounts?    How did he or she get my new card number right away?  So again I called Amex and here is what I learned:
Amex reversed the previous charges but did not instigate a fraud investigation.  Great, I didn't get charged but the thief got away scot free for three months.
Amex changed my card number but honored the recurring charge from Carfax, which turned out to be a subscription.  Amex routinely allows subscriptions to still be processed, as a service to card holders, but I specifically changed my card number to stop the recurring, fraudulent charges from Carfax.
Carfax has very little protections against credit card theft on their site. The security number is not required and, according to customer service, they don't validate against the billing address.  Which means any hacker who has the algorithm can generate a valid credit card number and use it on Carfax.  Okay, I know it's not that simple, but Carfax sure could make it harder to use a stolen credit card number.
There are thousands of fraudulent charges every day and the credit card companies, merchants and law enforcement simply can't investigate them all, so the vast majority of crooks get away with their crimes.
Ugh.  So what's a consumer to do?  A Web site of the International Association of Chiefs of Police and Bank of America (IDSafety.org) has these tips:
Protect your personal information.
Share your personal information prudently; just because someone asks for your social security number does not mean you should share it.
Eliminate paper and shred, shred, shred.
Secure your computer; whenever I walk away from my laptop, I lock it.
Secure your E-mail; again, lock your computer and use a strong password.
Review your financial activities/Review all statements carefully.
With the economy tanking, crime is on the rise, so be safe out there in cyberspace!