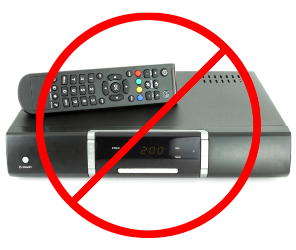 I did it! A couple of weeks ago, I cancelled my subscription to cable TV through Comcast. Why? Gosh, so many reasons but primarily because it was costing me $120 per month and my family just doesn't watch that much TV. Don't get me wrong. We watch a lot of shows, just not cable TV. So far, here's how we're surviving and thriving without cable:
HD Antenna. We had an HD antenna that lets us watch network television in HD. Finally putting it to use. Works pretty well. $50.
Netflix. My 3-year old is fond of saying, "I love Netflix." We watch all kinds of shows and movies on Netflix. Like the rest of DC, I'm hooked on House of Cards. $8.99 per month.
Amazon Instant Video. Since I'm an Amazon Prime member, I get access to tons of free shows and movies, many of them not available on Netflix, like The Wire, my new favorite and Stargate SG-1, my old favorite. Free, if you don't count my Prime membership.
Hulu. I just signed up for this. I love that I have access to most of the latest TV shows, including the late night talk shows. My husband loves watching movie trailers. $7.99 per month
Network television apps. I'm pretty impressed with the ABC, CBS and NBC apps. I get access to all of the shows, although I'm not nuts about the ads and the fact that shows expire too soon for me, since I don't watch regularly. The Taste disappeared on me last year when the season ended; why not keep up old episodes for a few months? Free. On the CBS app, I'm now locked out of some content because I can't log in to my Comcast account. Bah.
Specialty channel apps. I'm in love with the PBS app. I binge watched A Chef's Life earlier this year.
Chromecast. This $35 device from Google lets us stream shows from a table or phone to the big TV in our living room. It's also handy when we're traveling and want to watch a movie with the kids.
iTunes, Sony and Amazon stores. Maki, my husband, has banned me from buying movies on physical media. So no more buying DVDs. Instead, we rent movies through one of the online stores. If it's a movie I know we'll watch multiple times, like The Lego Movie, I'll buy it through iTunes and download it to whichever iOS device my child happens to be on at the time.
What gets tricky is figuring out where and how to watch a specific show. For example, my 3-year old wanted to watch Blue's Clues. This show used to be on Netflix but one day, it was gone. I googled "Blue's Clue on Netflix" and found lots of threads about Netflix no longer having the show.   So I started checking different apps but what a pain! I found that TV.com has a nifty database of shows and where they're available. Search for the show you want, then click Watch Online. Hover over an episode and TV.com will let you which platform has it, e.g., Netflix, Amazon Instant Video, Hulu, etc. Love this.
What I don't have is a way to watch CNN and live sports that aren't on network television. So I settle for the CNN app, which doesn't have live streaming unless you're a cable subscriber. Bah. So I turn to the NPR app, which has text and audio. And I now listen to the Radio Washington app, which lets me listen to WAMU (the local NPR station) live. Thankfully, my family's isn't big on watching live sports. We'll just have to keep our friends who have cable TV and giant TVs. 🙂
It's been a couple of weeks and I haven't missed cable. This might change and I can always re-subscribe. In the meantime, I'll enjoy my apps.