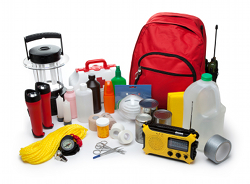 By now, I hope everyone on the East Coast who lost power is back online, enjoying air conditioning and a refrigerator full of food. Me, I thought my family was well prepared for an emergency but five days without power is making me rethink what we need to do at home and at work to be prepared for the next disaster.
Here's what worked:
Our production hosting environment was totally fine. We pay the data center, Internet Service Provider and other vendors lots of money to keep us running when everyone else is without power.
Our office was totally fine. I'm convinced that Crystal City is on some priority list for power because of the government offices and government contractors in this area.
At home, my husband Maki was able to power our fridge and a fan for a couple of days using large batteries that we keep charged for emergencies. After 2 days, however, we were dead in the water and had to keep charging the batteries at the office.
Even though cell service was totally out, we were able to make and receive calls because we keep a land line and one old fashioned, corded telephone in the house.
The hand crank radio kept us abreast of the news.
Our ham radio licenses were put to good use. We were able to get on the air and get updates from people all over the metro area, including an employee from Baltimore Washington & Gas who provided great information about the scope of the outage in the area and tips for purchasing a generator.
Having gas for our stove and water heater meant that we could cook and take warm showers. Amazing.
Having flashlights in every room, including several battery-powered Coleman lanterns, made it easy to get around the house after dark.
Here's what didn't work so well, how things could have been much worse and what I learned:
I didn't pay attention to the storm warnings and went home on Friday night without a full tank of gas and completely forgot to charge my cell phone. Thank goodness I was able to fill up early the next day and then use my car to charge my phone. Even worse, I forgot to get cash and had no access to ATMs because the closest ones were all without power.
I didn't have a printed list of emergency contacts and phone numbers, so when my home phones (with all of my saved numbers) lost power, I lost access to phone numbers.
I threw out all of the printed phone books from the phone company and it was nearly impossible to use my cell phone to efficiently get phone numbers for local hotels.  Yep, I saved the new phone books that arrived last week.
If our office had lost power, staff could have worked from home (assuming they had power) but it would have been difficult to access our intranet without the office VPN.
Maki's new electric car was pretty much useless (although to be fair, we could have charged his car at public charging stations in Crystal City).
We made a decision at home several years ago to stop buying bottled water. I was able to filter and save many pitchers of water on Friday night but if a storm hit us by surprise and we lost water, we'd have been sunk. Honestly, I'm not sure about this one. I still don't want to buy bottled water but perhaps we need an emergency stash or a filtration system.
It's time to buy that generator that Maki has been bugging me about!
I needed to be more creative about finding non-electronic ways to entertain my children.
Even though I was annoyed and bothered by the inconvenience of not having power for five days, I'm grateful that the situation wasn't worse and we had the means to stay in a hotel for a few days. I learned a lot about how to survive the next storm or disaster. How about you? How did you fare and what did you learn?