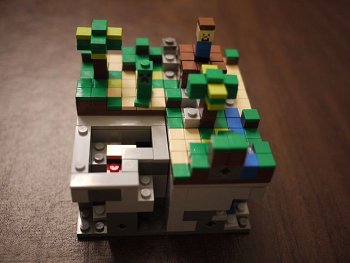 My family went to New York for Spring Break. During the obligatory visit to the flagship FAO Schwarz store, my husband caved and bought our 8-year old a LEGO Minecraft kit. Don't know about Minecraft? As far as I can tell, Minecraft is THE hot game for boys, who play it on computers, tablets and phones, basically any device they can get their hands on. Minecraft is a game that allows players to build anything out of blocks (buildings, lakes, plants, etc.). At night, the zombies come out so your house or castle better be safe. Anyway, back to my story. We shelled out $44 for a LEGO Minecraft that wasn't designed by LEGO.
For the past few years, LEGO has been accepting models from amateurs through their Cuusoo crowdsourcing platform. The model is simple enough: anyone can build and share a model. If your model gets 10,000 supporters, LEGO HQ reviews it and decides if it should become an official product. If your model goes into production, you get 1% of total net sales. Is that crazy or what? LEGO has managed to tap into the creative consciousness of its loyal fan base, who will undoubtedly bring their knowledge and interests to LEGO, at nearly zero cost to LEGO. Think of the buzz that a new kit has already generated by the time it reaches 10,000 supporters. That's 10,000 nearly guaranteed sales! More craziness: my 8-year old has already brought his Minecraft kit to school for show and tell and he's made a YouTube video that will join the thousands of other YouTube videos on Minecraft.
The question is, how can non-manufacturers use crowdsourcing to generate new product ideas, generate customer and member love, and increase revenues? Here are some ideas:
Many professional societies accepts submissions to speak at a conference. These submissions get reviewed and voted on by an elite panel of members. What if the society blew open the submission process and let the entire membership vote? The top submissions would then get to speak at the conference.
How about a soliciting ideas for publications and research to be funded by your Foundation? And then let the membership vote and you fund the top vote getters.
Want to connect with your members? Ask them what topics they'd like your CEO to address during a live chat or in blog posts, then get the membership to vote on the topics. Your CEO would then address the top topics during a meeting, call or in blog posts.
Thinking about staff retention? Ask your staff for their best non-financial benefits and rewards and then get the entire staff to vote.
It's easy to associate crowdsourcing with websites like KickStarter, where entrepreneurs submit their ideas and people support the ideas with their money. But I think crowdsourcing can be a powerful engagement tool for organizations of all sizes, in all industries.