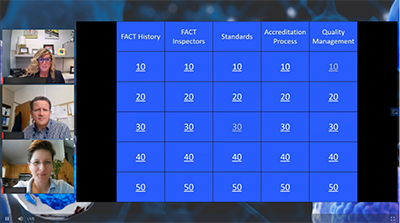 "How do we add fun to our virtual meeting? How do I get people chatting during our sessions? How do we get attendees interacting with each other?
These are just some of the questions we get when we meet with BeSpeake clients each week to plan their virtual meetings. While there's no magic formula, here are some ideas that have worked well recently:
Jeopardy! FACT does Jeopardy during the morning break of their Workshop and Bootcamp conferences. They created their own questions about their standards and accreditation process, invited three attendees to go live in the virtual studio, and then played the game. The attendees loved it and many of them played along by posting answers in the comments.
Photo roll. AFPM asks attendees to send in photos of themselves attending the conference from their office or home office. The photos are reviewed and the photos edited to add the attendee name and location. Before the general session each morning, the photo roll is played to show members around the world attending the conference.
Jackbox.tv. I love Jackbox and have purchased several of the party packs. Here's how it works. The person who owns the game (let's call him the host) chooses one of the many games available, like fibbage or truth or lie. The host shares his screen, which shows the URL that attendees need to navigate to, and the code they need to enter to play the game. Attendees use their phones as their controllers. Some games allow 10 players, while some games allow up to 100 to play. Jackbox is fun and cheap. The party packs start at $12 (period, not per month). Teri Carden of 100 Reviews loves Jackbox, and Matrix Group opened a recent webinar early with some Jackbox.
Musical entertainment. Several clients have booked musical entertainers to perform live or via a pre-recorded session. NAES had a musician/comedian perform at the end of the day, while FMI had a DJ (who happened to be one of their members) use music to interview industry executives.
There's no limit to the creativity our clients are showing when it comes to creating fun and interactive virtual conferences. We're sharing these ideas to get you inspired. What fun things have YOU done at your conferences?
Want to create a custom built virtual conference or tradeshow experience that is just as transformative as your in-person events? Contact us today to schedule a private demonstration of the BeSpeake virtual meeting platform.