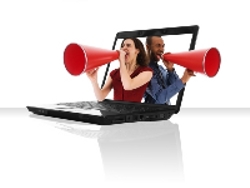 Matrix Group recently launched a new Web site for the International Association of Chiefs of Police.  Prior to the launch, Chuck and David, our esteemed clients, asked for some suggestions on ways to promote the new launch.  Here were some of my suggestions, including some easy and inexpensive tips:
Send out a special e-blast to your membership or customers. Be sure to highlight new features, new functionality, tips for navigation, links to popular pages, etc.
Include an article in your newsletter or magazine. Consider a series of articles in the next few issues of your publication.  In each issue, focus on something different about the new site, e.g., the navigation, how to use the site search, how to manage their profile, etc.
If you have a printed magazine or newsletter, put in a house ad that promotes the new site. Include a screen shot and list of new features and benefits.
Ask your staff to update their e-mail signatures with a message and URL, e.g.,Visit the redesigned Matrix Group Web site – https://www.matrixgroup.net

Ask staff to include a message about the new site in their voice mail message. For example, if your site now features online registration, ask the Meetings Department to promote the new feature in their outgoing messages.  During membership renewal time, be sure to remind members to check their profiles and pay their dues online.
Ask staff to tweet (post a link on Twitter) about the new site.
Write an announcement describing the new site, features and benefits and link it from the front page as the top story during the launch month.
Don't forget the staff.  Send out an announcement to all staff describing why the Web site was redesigned, the process you went through, who helped, the new features, how the redesign benefits the organization, etc.
If you have other easy and inexpensive ways to promote your Web site, I'd love to hear about them!