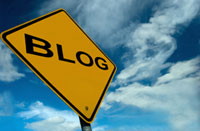 Several times a week, clients and colleagues ask me if they or their boss should be blogging.  My answer is usually a resounding Yes!, but I also know that a CEO blog usually involves writing on the part of the CEO and CEOs are rarely excited about adding another regular task to their already full plates.  As one client put it, "Joanna, when do you think I have time to blog?"
Seth Godin, one of my favorite bloggers and Web marketing mavens, says CEOs can't and shouldn't blog because they can't get away from the corporate speak.
But I say that CEOs can and should blog in order to:
comment on what's important in their field or industry
provide thought leadership for customers, staff or members
interact with customers, staff or members
provide another perspective on the organization and its activities
present a friendly (read not corporate speak) face to the world
Don't get me wrong.  I've had this blog for just a few months and since I write all the posts myself, I know that a blog takes work.  I have to be interesting, post about timely and important topics, and present a perspective that is candid, if not entirely unique.  (I'm not entirely sure I succeed all the time, if at all, but I try anyway.)  It's a commitment to post twice a week; heck, I posted once while on vacation in Costa Rica last week.
Here are some of my favorite CEO blogs:
NECA Transmissions by John Grau, CEO of the National Electrical Contractors Association
CounterIntuitive by George F. Colony, CEO of Forrester Research
CNewmark by Craig Newmark, Founder of Craiglist
Blog Maverick by Mark Cuban, CEO of the Dallas Mavericks
I have a client who says her organization finally decided to put up a blog because industry critics were blogging and grabbing all the attention.  A CEO friend says he'd rather be blogging and representing his company; otherwise, it might be lawyers, disgruntled employees and critics blogging about his company.
Baseline Magazine says, CEOs should blog or die.