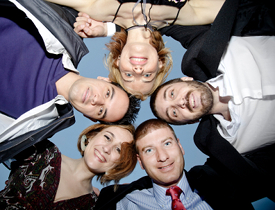 Last month, I had the pleasure of attending and speaking at the Women Grow Business Boot Camp in Washington, DC.  Organized by the Women Grow Business Community blog (sponsored by Network Solutions), the event brought together women business owners and entrepreneurs from around the region to learn about starting and growing a business.
It was during this conference that I heard Kathy Korman Frey,  Chief Hot Mamma of the Hot Mammas Project, talk about the Sisterhood of Success and how every successful business person needs a Party of five that she can turn to for advice and support.
The Hot Mammas Project is creating a giant library of case studies and role models for girls and women.  When not running the Hot Mammas Project, Kathy is also a professor at the George Washington University School of Business.  Here's what she had to say about the Sisterhood of Success:
There are two things that most affect a woman's success in business:  family life and access to mentors.
In business and as a formula for success, everyone needs 5 people they can turn to for advice, support, problem-solving, coaching, and networking.
If you have your Party of 5, you are more likely to be paid more, have higher status at your company and in life, and have higher levels of self-confidence.
You will not be as successful unless you have your Party of 5.  Period. End of story.
While Kathy directed her message to the woman solo-preneurs and business owners in attendance at the conference, her advice applies to anyone who wants to be successful, get ahead, do great things.  Kathy's Party of 5 message makes a lot of sense and rings true even in our personal lives.  Her research shows that people who have 5 or more friends are happier and have higher feelings of success.

I have certainly benefited from my Party of 5, whose members have been, at various times, key clients, Advisory Board members, my CEO coach and fellow CEOs.  I'm especially grateful to the members of my Vistage group and EAG (Executive Alliance Group), who share their business advice and give me a reality check at least once a month.  Two years ago, my good friend Chet told me to hoard cash because this recession was going to be bad.  I did and as a result, Matrix Group has weathered this recession in strong financial health.  My CEO buddy David shared his company dashboard with me, which inspired me to develop my own dashboard, which now guides planning, budgeting and resource management at Matrix Group.
As someone who has benefited from strong and effective mentors, I also feel an obligation to serve as a Party of 5 member to others looking for their own success.  I'm currently mentoring a couple of people at my company, and several entrepreneurs whose work I admire and trust.  Not surprsingly, I am learning just as much from being a mentor as I have learned from being a mentee and colleague.
How about you?  Do you have your Party of 5?  And what are YOU doing to be a member of someone else's Party of 5?