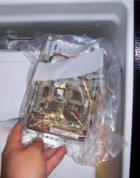 This topic is certainly not new. In fact, I first read about it many years ago, didn't really believe it, but I must have filed the info in the old brain drive.
Last week, I went to pick up my son from his preschool. As soon as I walked in, the preschool Director came up to me, surprisingly calm for the news she was about to deliver. She said "My computer won't boot ever since the power outage last week. Can you help?" She had a back-up of her work, but it was not current. (Rule number one: keep a current back-up of your PC and network.)
I told my husband, the "real techie in the family," about the dead computer and he agreed to look at it. The prognosis was not good. The machine would not even recognize the drive, which was clicking sadly away. A senior network administrator came up with the same, bad news. Diagnostic tests would not revive the hard drive, either.
I was resigned to tell the preschool Director the sad news, when I remembered the urban legend about putting a dead drive in the freezer to revive it. I told my husband, who looked at me funny, but heck, we had nothing to lose.
We put the hard disk in the freezer. BTW, if you try this, make sure you put the hard drive in a freezer bag. The bag protects the electronics in your drive from moisture and condensation, which could cause more damage, not that it matters if the drive is truly dead. We left the drive in the freezer for over 24 hours.
On Saturday, my husband went into work. He called me and said, "you will never believe this, but I am pulling data off the drive." No kidding. He was able to pull all the data off the drive and load it onto a new drive. Everything was restored, no data lost. CJ's teacher was delighted, shocked and amazed.
As for the drive, once it was rebooted, it was dead again, would not boot, could not be recognized by the PC. So if you try this, be prepared to grab the data right away and do not expect the old drive to work.
It seems the urban legend is true! You can revive a hard drive long enough to retrieve your precious data. Of course, this trick will not work if the drive is damaged or burned out. I looked online and found lots of references to the urban legend. Check it out:
Amazing, but true. Let me know if you've tried this trick and what the result was. If you know of other techie urban legends that are actually true, I'd love to hear about them.