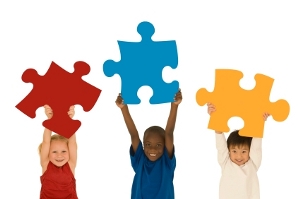 Clients often ask me how to add social media to their marketing and communication initiatives.  Rather than viewing social media as a separate program, I recommend adding social media to existing marketing activities.
In addition, I recommend against blasting the same message across the different platforms.  Instead, I urge clients to create a layered approach that uses each platform according to its strengths and capabilities.  Here are some examples:

Example #1: Trade Association Wants to Promote a Conference
Create a microsite for the conference that contains information about the conference, the venue, the program and speakers, and benefits to attendees
Use Twitter to broadcast conference updates and deadlines, industry news and statistics
Post photos from the previous year's conference to Flickr
Use a Facebook fan page to feature program and speakers, host discussions about conference topics, and allow attendees to interact with experts
Host a blog where conference organizers can blog news before the conference; during the conference, assign members to blog about the sessions
Example #2: Shoe Boutique Wants to Increase Traffic to Bricks and Mortar Store During the Holiday Season
Send a holiday postcard to the mailing list; offer a discount and feature a really hot shoe
Send blast e-mails every few weeks with featured shoes, gift giving tips, and a discount coupon
On Twitter, tweet about new arrivals, secret shopping discount codes, fashion tips, and cool shoe sightings
Host a blog and comment on the hottest looks of the season, discuss fashion trends, and offer fashion advice
On Facebook, create a fun Facebook quiz about shoes (e.g., what your favorite shoe says about you, what's your favorite shoe this season?), post photos from events at the store, and feature shoes paired with outfits
Note that on the social networking platforms, it's important to offer advice, share links, and report on industry news and trends and NOT just market your company and offerings.  By participating in the social networks as a provider of content (not advertising), your organization becomes a friends and an advisor, worthy of following.
How about you?  How is your organization integrating social media into traditional marketing campaigns?  How is your message and content different on each platform?  With what results?