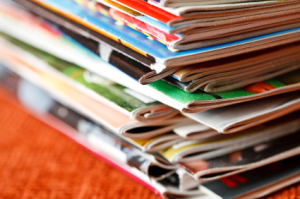 More and more of my clients are making the decision to eliminate their print magazines and newsletters. They're choosing digital versions of their publications over print to eliminate printing and mailing costs, achieve immediate delivery, and occasionally, create personalized versions based on customer preferences.
All of this makes sense to me.  I get most of my information via e-mail these days, and I'm subscribed to dozens of newsletters via e-mail and RSS.  And in an effort to minimize the "piles" at home, I have canceled all but a few paper subscriptions.
But I got to thinking:  Am I ready to ditch ALL of my paper subscriptions? Am I ready to cancel my print subscriptions to my favorite magazines, namely TIME, Smithsonian and Stanford magazines?
Here's my concern about all digital publications:  it's easy to ignore an e-mail newsletter as just another e-mail in the hundreds I get every day.  Consider this:  when my copy of TIME magazine arrives on Saturday, it ends up in my "to read" pile. This pile gets shuffled around from dining room table to coffee table to bedroom side table.  Each issue sticks around until I read or skim it, then toss.  But here's what happens with some of my e-mail subscriptions:  if I have the time, I read them on the spot.  If I don't have the time, I may leave them in my inbox or move them to a "read" folder for later reading.  Trouble is, with the flood of e-mail that I get, I rarely get to my e-mail read pile. And sometimes, in an attempt to gain back control of my inbox, I delete a huge group of e-mail newsletters and start over.
Ugh, so much for the future of publishing.  What is the balance that content organizations should try to achieve between print and digital?  And if digital is your only future, how do you ensure delivery and readership? I have some thoughts:

As with everything, it's important to consider the audiences for your e-mail alerts and publications.  Who are they?  What are they looking to you to provide?  How do they want to consume the content?
Is it even an option to mail a publication out to customers, if they so request?  If not, then you better be able to rely on compelling headlines, great writing, a great opt-in list, and good design to get readers to read your e-mails on the spot. (Hmmm… come to think of it, printed pieces need the same things to be successful.)
Be sure to embed open and clickthrough tracking in your e-mail campaigns. While you'll never know if people are reading your printed pieces, you can and should benchmark online usage over time using tracking codes.
Test, test, test. Figure out the best day for sending e-mails to your audience, which topics generate the most interest, and which headlines result in the most traffic.
One final thought.  I think that the iPad (and similar devices) could revolutionize how we consume content.  While I won't skim an entire issue of TIME on my laptop, I will read or skim an entire issue on my iPad.  Why?  It turns out that the iPad lets me browse online content the same way I read my printed magazines: on the couch or in bed.  And if I get used to this, I will likely cancel my print subscriptions and opt instead for the digital versions of my favorite magazines.  Which I think would be a win for publishers because they will still get subscription revenue AND they can track my reading habits.
How about you?  Have you ditched your print subscriptions? How do you manage the flood of e-mail newsletters coming your way?