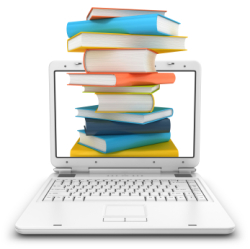 On September 1, Sony announced 3 new E-Readers priced between $149.99 and $299.99.  Last month, Amazon announced new versions of its WiFi and 3G Kindles; these devices are less expensive, lighter, more responsive and prettier than previous models.
And then of course, there's the iPad, my beloved iPad. On my iPad, I have the Apple iBooks, Amazon Kindle and Barnes & Noble Nook apps. I have purchased and enjoyed books on all 3 apps. And I have downloaded and enjoyed dozens of free books that are out of copyright.
While I love, love, love the idea of having hundreds of books on one device, having lots of great things to read on a trip, and combining books, music, photos, videos and games on one device, I have stopped buying books on my iPad.
Why?
Well, it turns out that I'm a social reader. I like buying books, reading them, and then passing them on. I just love the idea of sharing a great story or author. My copy of Three Cups of Tea by Greg Mortenson was shared with a half dozen people before it came back to me. Same with The Graveyard Book by Neil Gaman, only it never came back (which is just fine by me!) I have also been the happy and lucky recipient of many, many books from my brother Alex and friend Steve, who have introduced me to so many great authors and series. My sister and her daughter have given my son dozens of wonderful children's books, which I have gladly passed on to other moms when my son outgrew them.
You can't share e-books the same way that you can share printed books. Yes, I can share e-books with up to 5 devices connected to my Mac at home, but I can't authorize random computers all the time just to share a book! Moreover, when my Kindle-toting friend Eileen recommends a book to me, not only can she not share the book with my physically, she can't share it digitally because we have incompatible devices!
Wouldn't it be great if I could relinquish my rights to an e-book and pass it along to a friend, in a universal format they could download to their device of choice? Until that happens, I've put the breaks on buying a whole of e-books. I'll break my rule the next time we have to travel to Asia, of course, but in the meantime, expect to still see me browsing at a local bookstore or buying lots of printed books on Amazon.
How about you? Have you switched to buying e-books exclusively? Has this new habit changed your sharing habits? Or are you holding out and still buying printed books?