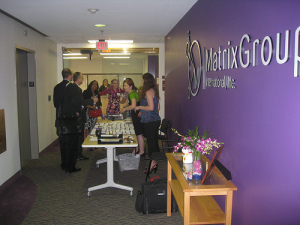 Last night, Matrix Group hosted an Open House to welcome clients, partners, vendors and friends to our new office in Crystal City (okay, new as of August last year).  We used the occasion to finish decorating the office and brought in Design Cuisine (Design), a leading catering company in the DC area, to orchestrate the event.
The Open House was wonderful!  The office looked great, the food and drink were outstanding (loved the beef satay and blueberry mojitos!), turnout was great, and by all accounts, guests enjoyed themselves thoroughly.  The Open House made me realize that hosting an event, much like putting up a Web site, should be a collaboration between client and vendor.  When both parties do their part, the result is almost always success. Here's what I've learned:
Clients should take the lead when it comes to goals and direction. When Matrix Group is designing a Web site, we ask lots of questions and try to find out what their goals are and what a successful project looks like.  In the same way, Seana Hale from Design Cuisine wanted to know all about Matrix Group, how we interact with clients, and how the Open House would support our client and partner relationships.
Clients should define the overall design aesthetic and values. When Matrix Group designers are working on a design project, we don't try to change the character and image of an organization.  Instead, we strive to understand the client's brand, represent it well via design and multimedia and enhance it through our work.  Design Cuisine understood that we wanted a nice event that showed off our creativity and our work, was modestly priced, and played up our brand color of purple without overdoing it.
Let the experts take the lead but be prepared to give timely feedback.  Once we're armed with good background information, our UX (user experience team) creates navigation, wireframes and designs.  It's great when the client trusts our judgment, takes design direction AND lets us know if we're on the wrong track by giving us specific and timely feedback.  We also love it when clients let us brainstorm and come up with out of the box ideas, knowing that most won't fly but the creativity that comes out is good for the project.
With the Open House, I trusted Seana and her team to come up with good displays and menus based on our discussions and my experiences with past events I've attended.  We provided feedback on the menu, decided where to put the different food and drink stations, requested a signature purple drink, and then let Design's team take over.  I did NOT want to be in the business of choosing linen colors and deciding how many tables we needed.  I figured Seana is the expert, she knows events and it's her job to make sure the event flows smoothly and the food and drink are divine.
The User Experience should always be top of mind. Matrix Group Creative Director Alex Pineda is fond of asking about user flows and actions.   No matter what the occasion, he asks, "What's the User Experience?"  On Web site projects, we identify the target audiences, learn what they want to do, and figure out how they should navigate to their goals.  With the Open House, staff served as tour guides so guests could learn more about our culture and work, we placed food and drinks stations around the office, and we placed signs all over the office to identify functional groups (e.g., Designers, New Biz).
If it's important, it should have support from the top. In my experience, if a Web project has support from the top, it will get the staff and budget support it needs, and it will get done in a timely manner.  Decisions also get made faster.  With the Open House, I knew that I had to be involved enough so that Design's team could get fast approvals on what to serve and where to serve it.
Here are a few photos from the Open House to give you a sense of the displays and user flows.  BTW, if you're interested, check out the Matrix Group photos from the Open House on Flickr.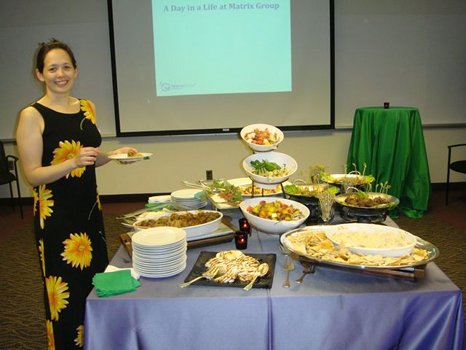 Jen enjoying the amazing satay bar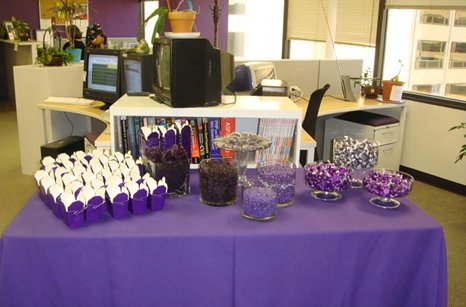 The Matrix Group admins ordered an assortment of purple candy for the candy bar.
Design made everything look pretty.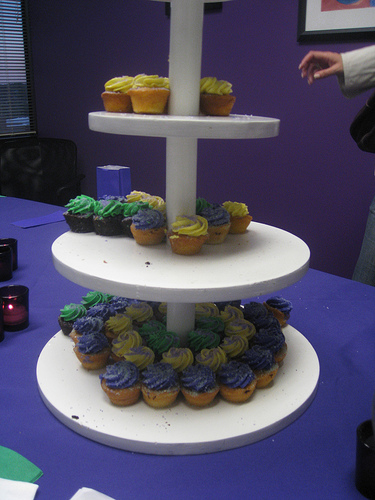 This cupcake tower sure went fast!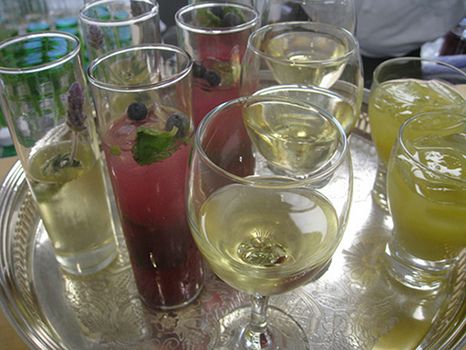 The signature drink of the evening was a blueberry mojito. Yum!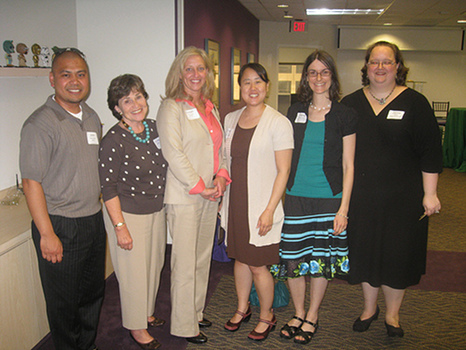 Cat and Janna gave guests from NPRA and ASF a grand tour of the office
and introduced them to team members.
How about you?  How are Web site development and event planning the same? How are they different?  In your experience, what works?