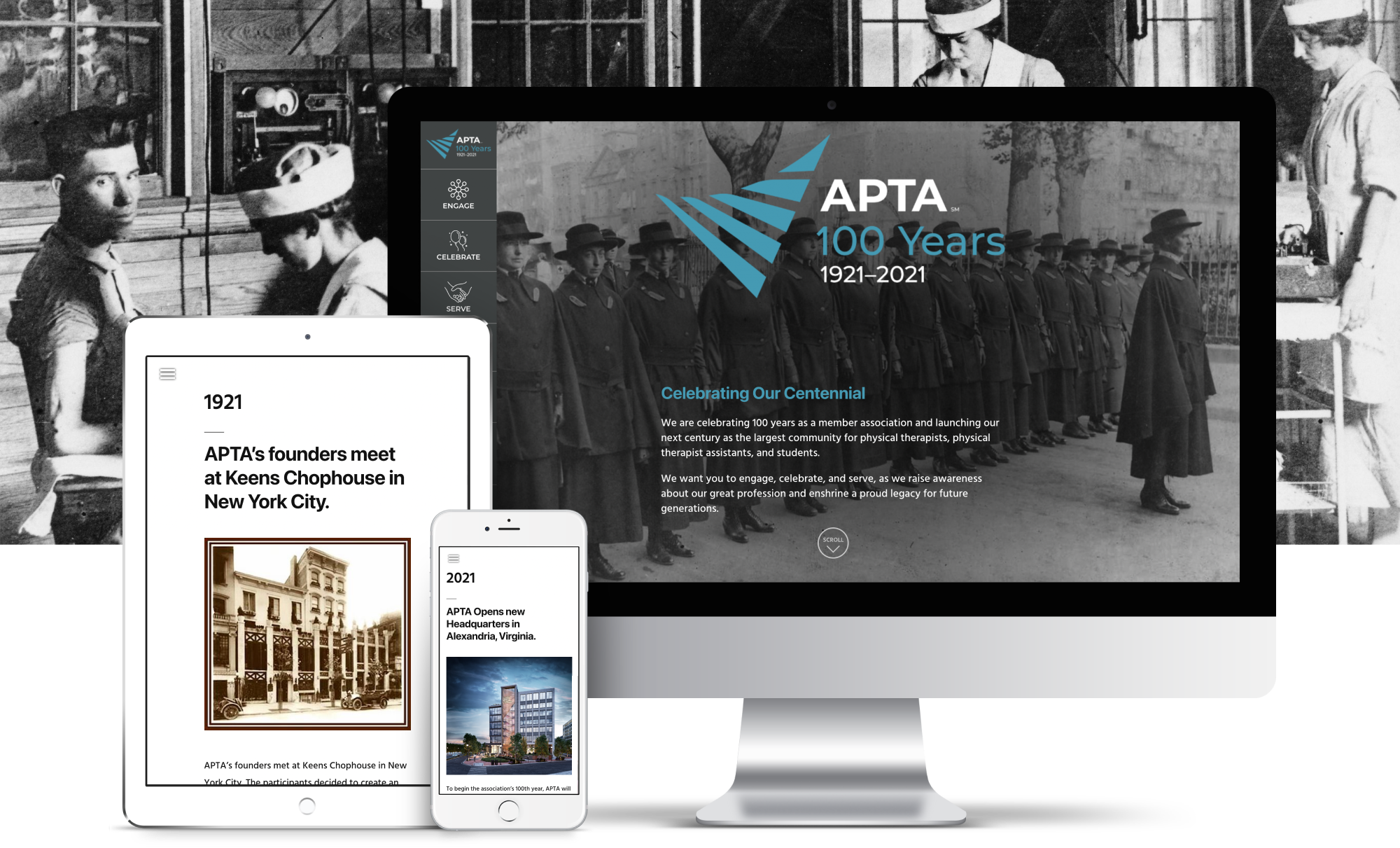 APTA Centennial Microsite
APTA Celebreates 100 Years
2021 marked a crucial milestone in the American Physical Therapy Association's (APTA) journey – 100 years of representing, strengthening and advocating for the profession.
APTA is an individual membership professional organization representing more than 100,000 member physical therapists, physical therapist assistants, and students, with a mission of building a community that advances the profession of physical therapy to improve the health of society.
To honor this milestone, APTA wanted to create an interactive microsite to celebrate the achievements of the organization and its members.
CLIENT
American Physical Therapy Association (APTA)
CONTENT MANAGEMENT SYSTEM
WordPress
SERVICES
User Experience
Web Design
Development
Search Engine Optimization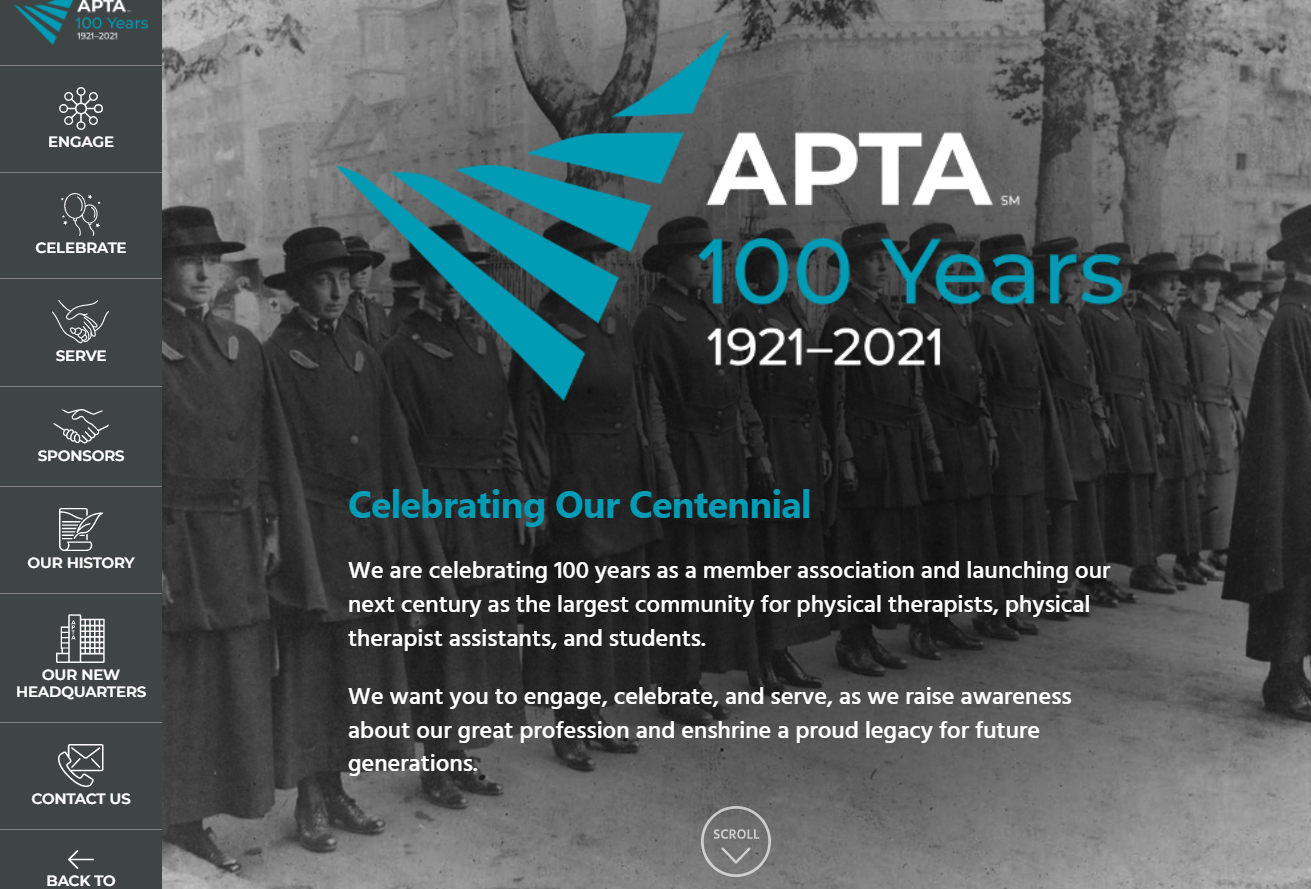 The Challenge
To commemorate the momentous occasion, APTA wanted to create a special anniversary microsite that showcases its rich history, highlights stories from those in the profession, and invites members, partners and other visitors to join the celebration.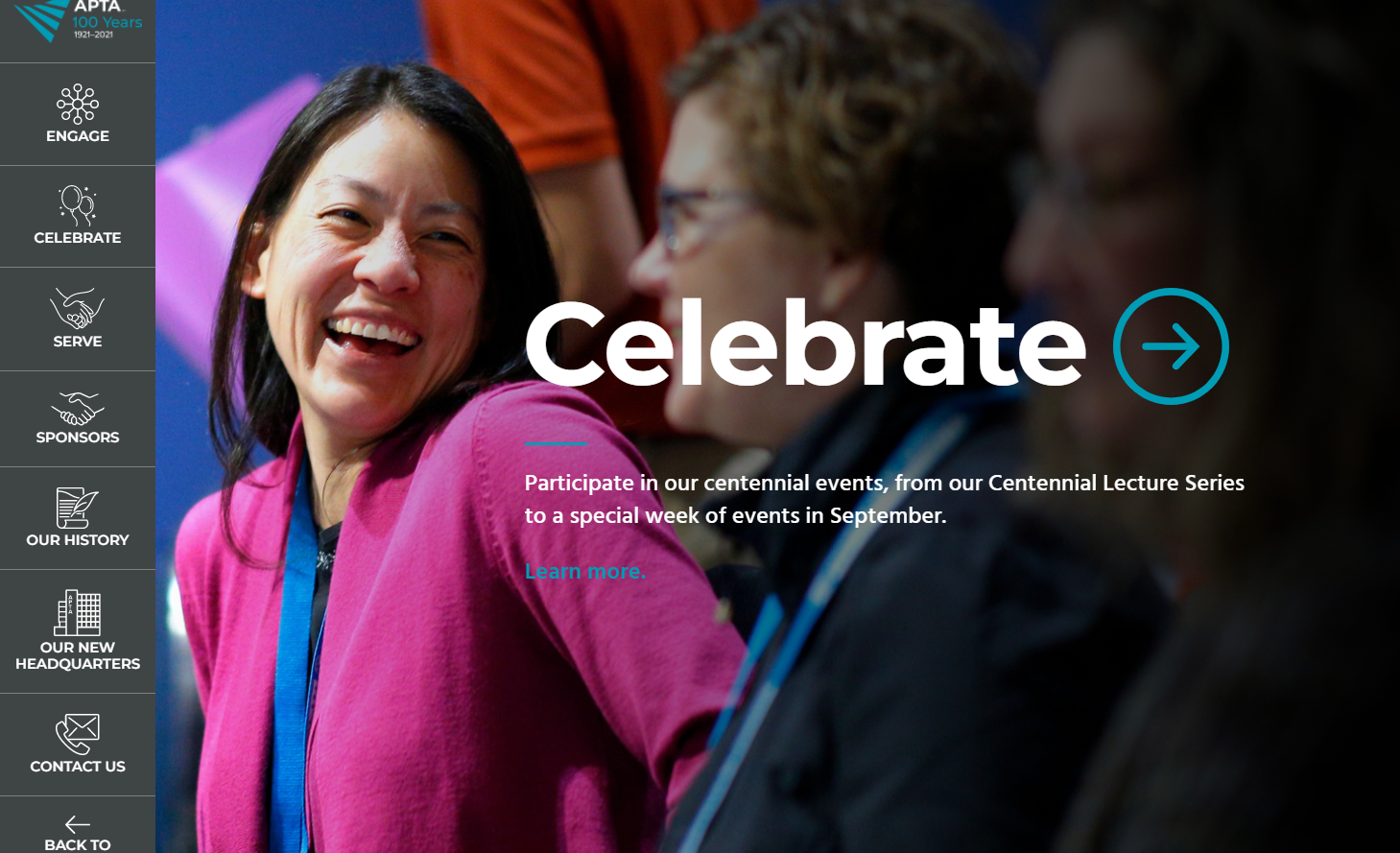 The Solution
Matrix Group partnered with APTA to create a special microsite. The website:
Features an interactive timeline, which uses photography from the association's archive, bringing APTA's rich history to life.  The timeline dates back to the early 1920s, giving visitors a sense of how the association and profession has evolved over the last 100 years.
Gives members and visitors a platform for sharing their stories and memories about how Physical Therapy – and the APTA – has impacted their lives
Celebrates APTA's mission and vision by connecting members and visitors to service opportunities throughout the year
Provides an easy way for members, partners, and the public to stay informed about the exciting celebration events happening throughout 2021.
"The APTA team has been hard at work for three years, planning a very special year to mark our 100th anniversary in 2021. This is more than a celebration of the past, we're also looking to the future and this event will serve as a steppingstone to launch the next hundred years. We want this celebration to be engaging and inclusive of all of our chapters and components, members, potential members, and the patients we serve and the centennial microsite will serve as a pivotal, central point to help us connect all the dots. Our partnership with Matrix Group will allow the site to continue to evolve and grow."
— Emilio J. Rouco, APTA Director of Public and Media Relations