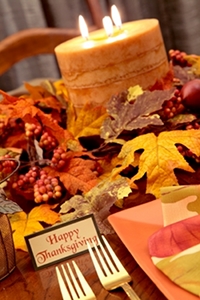 On my way to work this morning, I heard a story on NPR about how immigrants to this country have adopted the Thanksgiving tradition and made it their own.  A Greek chef talked about how his mother made a Thanksgiving turkey but every other dish during the meal was Greek.  The story reminded me of the importance of traditions.
We tend to think of traditions as part of our personal and family lives.  But if we look closely, most companies have traditions as well and they bind staff to the company and to each other. Here at Matrix Group, over the past ten years, we've amassed a set of traditions.  These traditions include: a pumpkin carving contest during Halloween, funny awards and a white elephant exchange during our holiday party, pie during the June birthday celebration, naming each server after a Star Wars character, and creating a special glass after an especially important launch.
The traditions have become part of our lore and our culture.  It's part of what we as staff have come to expect, and they bridge the gap between staff of differing seniority.  I, for one, think that we ought to recognize these traditions, no matter how small, and celebrate them, for they make work a better place.
How about you?  What traditions does your company observe?  What do they mean to you?
Happy Thanksgiving!  And may your holiday be full of Thanksgiving tradition, family and togetherness.