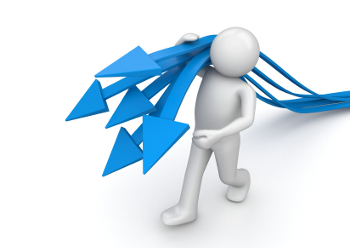 I had the pleasure of speaking at the International Foundation of Employee Benefit Plans (IFEBP) last week during their Benefit Communication and Technology Institute in San Jose, CA. My topics? Getting Started with Video and Website Best Practices. But that's not the topic of this blog post.
The closing session made a real impression on me. Terry Grim, a partner at the Foresight Alliance, talked about the art and science of predicting the future and boy was she terrific.
Terry started off by saying that many things that seem to catch us by surprise were actually predicted, including 9/11, the rise of drones, extreme weather. And yet, despite our technological advances, it's still very hard to predict THE future. Why? Terry says:
Forecasting errors are most caused by forecasters' assumptions, which turned out not to be accurate.
We tend to think of the future as one thing but there is a range of possible futures.
The expected future is actually unlikely to happen because while we can usually forecast probable and preferred futures, we tend to be less good at forecasting plausible alternatives.
Even when we do predict a chance or shift, we are often lousy at predicting or anticipating the ramifications of said change or shift.
Ultimately, good forecasts must allow us to make better, more informed decisions. So how do we do this? Terry says:
We need to think about the range of possible and plausible futures. We should ask ourselves, "If current trends continue or don't continue, what will happen?"
When looking at plausible futures, we must look wider and factor in social, economic, environmental, regulatory, social, political and technological forces that will/could/might shape the future. Most of us have a lens through which we're comfortable looking at the future. Good forecasting means looking at the world through different lenses, hence the importance of having a diversity of backgrounds and experiences on your team.
We must look at 2nd and 3rd order ramifications of changes. We must take a longer view of the impact of plausible futures.
We must look deeper and ask ourselves, "What do we not know? What do we think we know that might be incorrect?"
Terry called this time The Age of Surprise because there are so many forces of changes pressing on us at once: technological, medical, political, economic. She called on all of us to question our assumptions, look wider, deeper and longer to understand the future, and use more comprehensive data to make decisions.
As someone who has been "surprised" many times this year by turns in the market and marketplace in which Matrix Group operates, I'm thinking hard about possible and plausible futures, and hoping to bring better data and forecasts to our strategic planning.