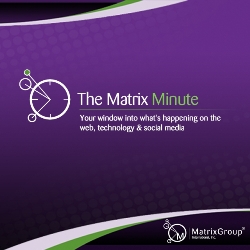 Even though Matrix Group has had a YouTube account for years now, we weren't doing much with it. Well this past week, we finally, fully integrated this platform into our overall marketing and social media strategy by launching a new series called The Matrix Minute.
Why so late to the YouTube game? As I've explained before in previous blog posts and webinars, I believe that it's important to create a layered experience across different media. In other words, don't just post the same stuff to Facebook, Twitter, your website, YouTube, your blog, etc. Have an overall strategy, but take advantage of each site's capabilities and culture to maximize followers across all platforms.
Until recently, we didn't have a clear idea of how we wanted to incorporate YouTube into our marketing, sales and client engagement strategy. We had videos from Matrix Group staff events, but we had reserved our Facebook page for information and posts about the project we're working on and corporate culture. I didn't want to use YouTube as another place to promote corporate culture. And until we hired a new Marketing Coordinator, we didn't have the bandwidth to staff an active YouTube channel properly.
But this past week, we launched The Matrix Minute, which is a series of interviews with in-house and outside experts who discuss web technologies, mobile technologies, social media, design and web development. Occasionally, we'll feature local CEOs who will talk about leadership and what their organizations are doing to stay relevant and vibrant.
Here's how the Matrix Minute fits into our overall sales and marketing strategy:
As a company, we're extremely committed to ongoing education for staff and clients so content-rich interviews make sense for us.
It's a way to showcase the expertise we have within the staff.
It's a way to leverage the expertise of our clients and partners.
It's a way to continue demonstrating thought leadership.
We get to show off our video production capabilities.
YouTube is owned by Google and Google favors keyword-rich videos and descriptions so the channel is good for search engine optimization (SEO).
It's a way to layer YouTube into our strategy in a way that's new and different from what we're doing on our website and social media.
The Matrix Minute has also been a lot of fun.  So far, I've been doing all of the interviews and I'm learning a ton. Ray Stankiewicz, New Biz Manager at Matrix Group, is the producer and Melissa Bader, Designer at Matrix Group, does the video editing.
We've got a half dozen interviews already online. For example, Jill Foster of Live Your Talk talks about videoblogging. Jennell Evans of Strategic Interactions shares her tips for managing remote teams. And Sherrie Bakshi of Matrix Group talks about why 2011 is the year to start a corporate blog.
BTW, we call it The Matrix Minute, but the interviews are usually 2-3 minutes long. 1 minute just didn't provide enough time for a meaningful interview and Matrix Minutes sounded goofy.
I hope you'll check us out on YouTube (http://www.youtube.com/MatrixGroup) and you'll rate, comment and subscribe. Tell us what you think of our latest initiative!