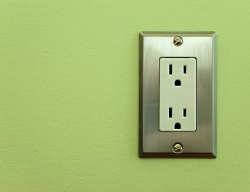 In my last power bill, Dominion Power reported that "(n)ationally, 6 percent of our residential electricity consumption goes to … 'phantom loads' used by devices – such as, VCRs, televisions, stereos, kitchen appliances – that are turned off and not in use.   Holy cow!  6 percent?!
I don't know about you, but my power and gas bills  shock me each month.  At home, we upgraded our HVAC system to high efficiency Trane units; we have turned our thermostat down to 68 this winter; we have window film on bedroom windows; all of our light fixtures and lamps use compact flourescent bulbs; well, you get the picture.
But we've completely overlooked the phantom loads used by: the laptops that get left on at night; the PS3, Apple TV and Wii that are on standby all the time; and on and on.  So I dug a little deeper and found these suggestions for reducing the phantom load at home and at work.
Purchase Energy Star appliances. For example, if left inactive, Energy Star labeled desktop computers enter a sleep mode and use 4 watts or less.
Put devices on a power strip and turn the strip off when appliances are not in use; battery charges and laptop power adaptors continue to draw power even when the device is not plugged in or when the device is fully charged.
Turn off your monitor at night. Many monitors go to sleep after xx minutes of inactivity, but I noticed that many monitors around the office didn't go to sleep properly, which meant the screen saver stayed on. Make sure your monitor goes to sleep properly; better yet, turn it off before you leave for the evening.
Many offices have a policy that staff should leave their computers on at night so that security updates and patches can be applied.  If you have this policy, ask your network administrator to turn off computers after updates have been completed; yes, this can be done over the network.
Unplug major appliances when you go on vacation. This way, your game consoles, cell phone charger, etc., are not drawing energy.  Plus, you're reducing the risk of fire, or so I'm told.
BTW, even if I never see the power bill at the office, I want to do my part to reduce my energy consumption. What other suggestions do you have and do you think it's made a difference?