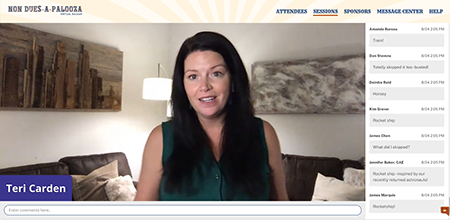 I'm attending a lot of conferences these days. I'm also helping clients plan and execute a lot of conferences. All of them online, of course.
One of the biggest questions being asked by meeting planners is: Should my educational sessions be live or pre-recorded? Live streamed at a certain time or available on demand?
Pre-recorded has some obvious benefits:
Your speakers won't have technology issues
You can control the start and end times
You can up the production value of your sessions with extra editing, graphics, transitions, etc.
I recently had the pleasure of working with Teri Carden on Non Dues-a-Palooza, a conference dedicated to helping associations increase their non dues revenue through partnerships and great ideas. Teri had 10 case studies, and 6 pitches by sponsor companies. The case studies were going to be pre-recorded so Teri wondered how she could add a live element to the conference so that the case studies didn't feel like just another set of zoom webinars. Should the 2-minute pitches by demo companies be live or pre-recorded? Should her welcome be pre-recorded?
After much discussion, Teri decided on a mixed format: she would be live but the case studies and 2-minute demo pitches would be pre-recorded. In addition, the demos would be live as well.
Live can be nerve-wracking. You never know what can happen: someone's Internet drops, the speaker mutes herself accidentally, your schedule falls apart because someone ran long. BUT, live has benefits as well:
Your presenters can answer questions in real-time
Your presenters can lengthen or shorten remarks as needed
Perhaps most importantly, your attendees feel like they are experiencing something happening real-time, that they need to be online at a specific time and place in order to be part of something.
I'm speaking at the ASAE Annual Conference this week. Speaking is perhaps a weird verb because my session was pre-recorded. Instead, I will be available via chat to respond to attendee comments. There's a part of me that wants people to listen to my session, not just try to keep up with the stream of comments. If I had my druthers, I would have pre-recorded my session but been live, on video, for the Q&A. But yes, that's different, more complicated technology to make that happen. So I will be presenting on Wednesday AND responding to questions and comments.
Personally, if a conference is made up entirely of pre-recorded videos, I think some attendees will lose interest. The motivation to participate NOW will dissipate because sessions are pre-recorded and will inevitably be available on demand, in which case it doesn't really matter when you watch the videos.
How about you? How is your organization navigation live vs. pre-recorded? What has worked? What have you learned?