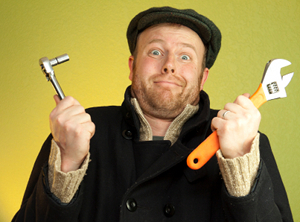 The dishwasher at Matrix Group died yesterday. If you've spent any time with me and my staff,  you know that we like to eat and the dishwasher gets a lot of use. So no dishwasher is a big deal. We called a local plumber and he arrived this afternoon.
Mr. Plumber came in, checked out the dishwasher and gave Jaime, my Director of Administration, two options: replace the broken drain or replace the dishwasher altogether. This is when I walked in. He explained the situation all over again to me and I said, "okay, so how much is it going to cost?" He said something along the lines of "a good dishwasher starts at $350 and labor will run you $150. I'll even pick up the dishwasher at Home Depot and remove the old one."
Here's where Mr. Plumber should have sealed the deal but instead, he botched it. I said, "you've got a budget of $600, get me a nice dishwasher, pick it up, remove the old one, get a black one please. Can you come back tomorrow?" I figured we were done. I gave him a budget, it was more than what he quoted me so he had wiggle room to get me a nice dishwasher AND charge me extra for the small things that always come up, and the office would have a new dishwasher the next day.
Instead of saying, "great, I'll be here tomorrow. I'll pick a nice GE that my customers really like," he said, "well, you need to go to the Home Depot website, pick the one you want, I want to be sure you like the dishwasher, what if there aren't any black dishwashers, what kind of options do you need, yada, yada, yada." I gave it 5 more minutes. I told him that we would be happy if the dishwasher washed dishes, was installed properly and could be here tomorrow. In the end, in frustration, I told Mr. Plumber that we would do our research and call him back.
So what happened? Jaime went to HomeDepot.com and found a nice GE dishwasher for $450. And guess what? The Home Depot price included delivery, installation and removal of the old dishwasher. So we ordered the dishwasher from Home Depot and Mr. Plumber lost the business.
What was the lesson here?
When the customer is ready to buy, for god's sake, seal the deal. Give her the recommendation she's looking for and don't walk out of the office or get off the phone without an order. This is especially true when you are dealing with the decision-maker. Decision-makers are happy to make decisions, especially when they are in pain. Decision-makers in pain want YOU, Mr. Vendor, to solve their problems, not give them homework and not give them reasons to keep looking.
How about you? Did you ever try to give the business to someone and but walked away in frustration because it was just too darn hard to give them the business? Details, please.
And you better believe I'm going to be talking about Mr. Plumber with my sales and project management team tomorrow.