A couple of Saturdays ago, my friend, co-worker and Director of Biz Dev, Bryan Clark, was taking his first-degree TaeKwonDo black belt test. I was attending as a black belt to help with the sit ups and push ups, to cheer Bryan on since he's my sparring and workout buddy, and to post updates to the studio's social media pages.
In the past, I've taken photos and videos and posted them to Facebook in a continuous stream during the event. As I was leaving work on Friday night, a co-worker asked me to wish Bryan good luck and please stream the test live so she could watch from Pennsylvania. Live stream? Could I do it through Facebook Live on Be Ryong's Facebook page? I decided to give it a try.
Over the course of the next three hours, I live streamed snippets of the test, I took photos, I shot video, I used my iPhone 6 and my DSLR camera to document the test, and I helped out with the test. I texted friends and co-workers to let them know I was live streaming the event, and I posted updates to Bryan's Facebook page to let HIS friends know about the test and the live updates.
Facebook Live is ridiculously easy to do. From your personal page or a brand page that you manage, press Publish, then select Live Video.
You'll be asked to enter a description. Once you're ready, you click Go Live. Yes, it's that easy.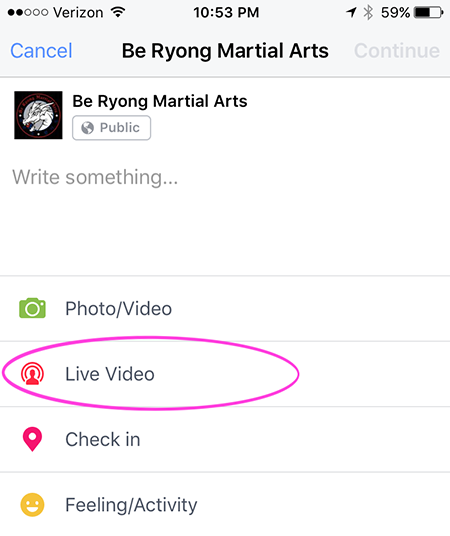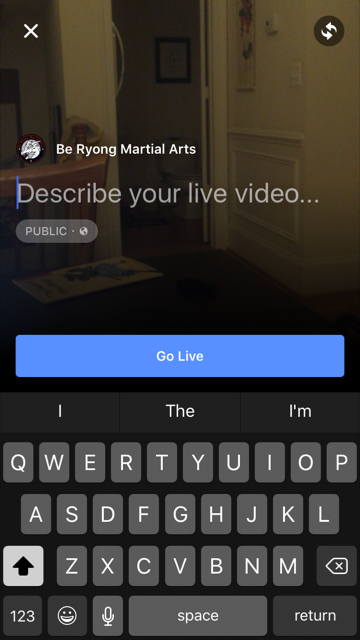 Things I Learned
Here's what I learned from using Facebook Live during the test and during a few classes since then:
Be sure to advertise that you'll be streaming your event live well in advance of the event so that people know to tune in. The decision to live stream was sort of made on the fly, and I could have built up excitement and views if I had done more promoting ahead of time.
Make sure you have a good Internet connection. Turns out that one side of the studio had better WiFi than the other, so I stayed on the good side. When I ventured to the bad WiFi side, the video suffered.
Have a stand or other means for holding your phone or tablet up and steady. Because I was holding my phone and panning to get the full layout of the studio as the students moved around, the video got a little shaky at times. If I had had more time, I would have set up my phone on a stand in one part of the studio and just occasionally zoomed to get better coverage of a student or routine.
Your video will be live in near real time, but not instantaneously. Out of curiosity, I asked a friend to check the studio's Facebook page while I was live streaming. We discovered the stream was about 30 seconds behind, which we thought was pretty darn great. I remember the days of needing a fiber or satellite connection, a camera, a real-time encoder, yada, yada. And here I was, live streaming with my phone!
If you want a copy of the video, shoot the video with your phone or camera, don't live stream it. I didn't realize it until later, but I ended up without a local copy of the videos I live streamed because they were uploaded directly to Facebook.
If you want HD video, shoot the video from a quality digital camera. The quality of the live stream is good but not HD. Some of the streams were actually fuzzy. So for the breaking part of the test, I chose not to live stream. Instead, I took HD videos and then uploaded them afterward to Facebook. The quality is better, AND I have copies to give to the students.
For short bursts of activity, you can choose to live stream OR shoot video and then upload. Uploading video to Facebook is so ridiculously easy, especially if videos are a couple of minutes or less. For these short videos, Facebook Live is less compelling.
Facebook will archive your live streams so even if your followers don't watch in real time, they can still watch on demand.
All in all, Facebook Live is fabulous tool for live streaming your events. Want family overseas to watch your daughter's wedding from afar? You can live stream on Facebook. But just be sure get a quality, HD archive as well.
If you want to see samples of Facebook Live streams from the black belt test, visit the BeRyong Facebook page. I'd love to hear about your Facebook Live adventures!