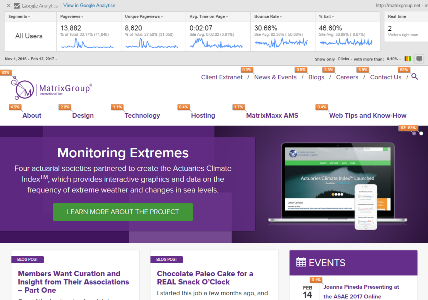 For me, 2017 is all about productivity hacks and working more efficiently. Recently, I've been diving deep into the world of Google Chrome extensions to help me streamline as much of my work (and personal life) as possible.
One of my current favorite tools is the Page Analytics extension for Chrome. With just a quick glance, it shows you how your users are interacting with your site, in an easily digestible format.
How does it work?
Once you have the extension installed and turned on, you will see the analytics data pop up on any webpage you visit that you have access to in Google Analytics. Keep in mind that this requires that you are logged into the Google account in Chrome that is tied to your Google Analytics account.
When the extension is turned on, you'll be able to see:
Metrics such as pageviews, unique pageviews, average time on page, bounce rate, and exit percentage. You can also use the date comparison and segmentation tools directly in the extension for these metrics.

The number of active, real-time visitors on your site.

In-page click-through rate analysis.
I love that in the middle of a marketing meeting when someone asks, "Hey – does anyone know if our users are actually clicking on the calls to action in our rotating branding area?" I can quickly pull up our website to see how many people have clicked through in the last month. It's also a heck of a lot easier to take a quick, high-level peek at the traffic on any given page of our website than it is to log in to Google Analytics and dig for that information. Pretty great, right?
While I still very strongly suggest doing a deep dive into your Google Analytics reports once a month at minimum, it's great to be able to get a rough idea of what pages users are visiting, what's working, and what's not working in a matter of seconds.
One very important thing to note about the click analysis, however, (and one of my only gripes with this extension as I think it's a bit misleading at first glance), is that the click-through rate is for each destination page. For example, if you have three separate links to your events page on your homepage – in the navigation, right rail, and footer – they will all show the same number of clicks, even though the link in the navigation may have gotten the most number of individual clicks. Therefore, the click analysis isn't good indicator of the success of link placement. Just something to keep in mind!
What are some of your favorite Chrome extensions for working more efficiently?