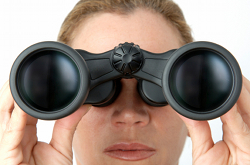 Facebook Founder Mark Zuckerberg has gotten a lot of flack lately for his pronouncement (during an interview with TechCrunch) that privacy norms have evolved over the years and privacy is essentially dead.  I watched the interview myself and think the criticism is overdone.  I think that Zuckerberg has correctly described the times and his company is taking advantage of our voyeuristic culture.  Facebook did not create this culture.  I think it started with the first reality show on MTV back in 80s. We watched the teens living together and reveled in their pranks and arguments.
Does the social Web mean the end of privacy?  Are MySpace and Facebook to blame for all the personal revelations we spew out every day?  Or should we blame Google and Bing, which manage to index the Web and let anyone find out gobs and gobs of information about each of us?  When I Google my name (Joanna Pineda), I find lots of information that I WANT the search engines to find and index.  But I also find pages that have my address, my political contributions and address, yada, yada.  I'm not happy that Facebook changed its privacy settings and defaulted some of my information to be available to everyone, but I actually appreciate the more granular control that I now have over my posts, link and photos.
What do you think?  Is privacy dead?  How much do you reveal on social networks?  Are you doing anything to keep out of the search engines?