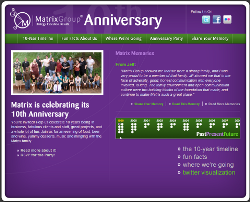 We did it! We launched a microsite for the Matrix Group 10th anniversary! It took us several months and a whole lot of research, but we did it. Why create a site for the occasion?
10 years feels like a real milestone to us, especially to me. Like I say in my "Where We're Going" letter, when I started the company, I wasn't thinking about balance sheets or Web standards. I just wanted to help companies with their Web sites. And when my Advisory Board Chair asked me about my five-year plan (during year one), I just laughed; I was so focused on surviving the first year, five years felt like a lifetime.  So it felt right to create a microsite that lets all of us at the company see where we've been and think about the future.
We also wanted to create a showcase piece for the company, one that invited a lot of clicking to learn more and let us create some far out designs we don't normally get to do.  I love, love,  love timelines, so we scoured our project notes and intranet and created an interactive timeline with important dates, factoids and photos.  We also adore information design, so the Fun Facts portion of the site is a tribute to information design. Finally, I was dying to launch a Twitter visualization project, so ours shows off tweets from the company, the staff, and people we're following, as well as tweets about topics we follow (Web standards, social media, yada, yada.)
Finally, we want to use the microsite to let clients, partners, staff and alumni share their favorite Matrix Group stories.   Share Your Memory is letting us capture some great stories from the past ten years!
If you've got an anniversary or important milestone coming up, think about a microsite!  Let us know how we can help or send us a link!