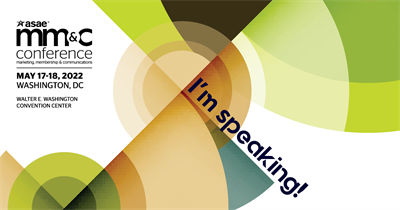 ASAE MM&C Conference: Ray Stankiewicz Speaking About "5 Technologies Your Organization Can't Ignore"
Time:
6:15 AM - 7:00 AM

(UTC+0)
Ray Stankiewicz, Director of Client Solutions at Matrix Group, is excited to be speaking at the ASAE Marketing, Membership & Communications Conference, happening May 17-18, 2022 in Washington, D.C. The session is titled "Coming to an Association Near You: 5 Technologies Your Association Can't Ignore." Ray will be co-presenting with fellow thought leaders and industry experts Doug Baker, VP Industry Relations at FMI – The Food Industry Association, and Tobin Conley, Senior Strategic Consultant at DelCor Technology Solutions.
Here are the details:
Coming to an Association Near You: 5 Technologies Your Association Can't Ignore
Date: Tuesday, May 17th
Time: 10:15am-11am ET
In this panel discussion, association executives and consultants will review case studies of cutting-edge technology innovations that are dominating the corporate landscape and becoming more relevant for associations. While some concepts may seem like buzzwords or too abstract, the panel will focus on what the real-world impact is and why association leaders should expect to hear more from their members on these topics: Artificial intelligence and predictive modeling, Self-sovereign identity, 5G for ultra low-latency and widespread broadband internet access, Virtual Reality, Augmented Reality, Mixed Reality, and the Metaverse and Cryptocurrency. We will focus on the context and mechanics of each technology, showcase how it has been used in the field for various applications, and provide additional considerations for association leaders. As associations are frequently viewed as the voice of their industries, specialties, and crafts, get a sneak preview of innovations that may change the dialogue.
Register Now