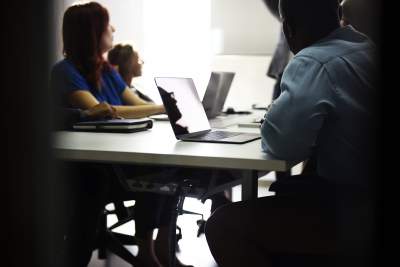 Holding a training session can be tough. You have to give your audience all of the information they need in a limited time frame, without overwhelming them or, let's be honest, putting them to sleep. It can be quite the task and balancing act.
At Matrix Group, we conduct a lot of training. Over the years I've held hundreds of trainings and MatrixMaxx product demos. While my sessions aren't always 100% flawless, I like to think that I've gotten pretty good at holding a successful training session.
Recently, I gave some of our staff a training session on giving training sessions. Here are the 9 top tips that I shared with the Matrix Group staff on how to make your training sessions successful:
Know your material

– This one may seem obvious, but be well prepared and don't try to wing it. Make a quick bulleted list for yourself of the key points that you want to cover, and, if you do the same training regularly, it might be worth your time to create a standard presentation template that gets customized for each individual training.

Know the audience's goals

– Ask yourself: What are they trying to get out of this training or demo? What information is the most important and useful to them? Do they want an overview, or a deep dive into one or two areas?

Learn about the organization(s) you are talking to –

Ask them questions about how they currently do certain things ahead of time, so you can better prepare. Also, be sure to know about any unique customizations the client(s) may have in place when holding a software training.

Prepare sample data

– It often goes a long way for the client to see data like their own. Note a couple of examples that illustrate your points, and populate some sample data where necessary.

Slow down

– Don't be afraid of a little silence and don't rush through the material. You may know the information like the back of your hand, but your audience doesn't, so make sure you are giving them enough time to let things sink in.

Practice

– A little practice makes a big impact, especially if you are conducting a training on or using new material. Formulate a plan for what information you are going to cover, go over your examples and illustrations and think about what you are going to say for each one, then practice, practice, practice.

Speak clearly

– Try to avoid "ums" and "ahs". The previous two tips will also help you to do this. Also, if you are giving a training remotely, keep in mind that conference phone lines tend to muddle things, so take extra care to enunciate.

Periodically prompt for questions

– Before changing topics, ask if there are any questions. This gives the more shy audience members an opportunity to ask questions.

Be clear on who will be taking notes

– It can be hard to take notes while also conducting a training, without breaking the flow of your presentation. If you have someone else from your organization helping out with the training, be clear about who will be responsible for note taking ahead of time.
As with anything, practice really does make perfect. But hopefully with these tips you'll be able to knock any training session out of the park, whether it's your first or your 50th.
Have any other tips for how to ensure that your training sessions are successful? I'm all ears!