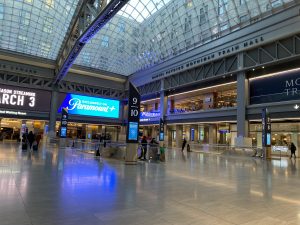 I never really stopped traveling during the pandemic. Yes, I traveled a whole lot less, but I have seen my mom several times, I went on vacation, and I have attended out of town conferences. Just since the start of the New Year, I've been to San Diego, San Francisco and New York.
Whenever I come back from travel, friends and co-workers ask me, "what's it like to travel these days?" This post is for all of you who have been wondering what it's like to get on a plane or train, stay in a hotel, or attend a conference or show. Here's what I have observed and learned, in no particular order.
Mask mandates are very strict at airports, on planes, and on trains

. Even if your local jurisdiction is no longer requiring masks, you've got to mask up when traveling by air or rail.

Planes had been mostly full since September, but then planes started being less full at the start of the year.

San Diego airport was actually empty when I flew out at the end of January. Friends have reported the same in other parts of the country.

On the train ride to and from New York, I had a row to myself on the Northeast Direct and the

Amtrak website shows trains at 30-50% capacity

. By the way, if you take Amtrak into Penn station in New York, you will arrive at the new Moynihan Train Hall, which opened last year; it's bright, clean and pretty fabulous.

About half of airport restaurants are still closed.

If you had your heart set on a specific food place, you might be disappointed. My sister's favorite oyster place at Grand Central Station is closed. Starbucks at SFO is closed. 

Hard to tell what the occupancy rate has been at the hotels where I've stayed. There are lots of people around, but the lobbies and elevators have not been crowded.

The cab drivers and restaurant workers I spoke with this weekend in New York said business started to come back last September, then it dipped again in December and hasn't recovered.

The hotel bar at the Intercontinental close to Times Square was closed on Super Bowl Sunday; my sister and I thought that was crazy, so we headed back to my hotel, the Intercontinental on E. 48th, where the bar

was

open.

I saw

American Utopia on Broadway and the St. James Theater was full. The Imagine Dragons

concert at the UBS Arena on Long Island (their fourth concert in this tour) was probably at 90% capacity.

Many hotels are going contactless, which means you barely interact with staff, especially during checkout. I asked for change at the Hilton in San Diego so I could tip the bellman who was calling me a cab. The front desk did not have any cash; I had to go to the bar for change. So, heads up, bring cash in small bills so you can still tip bellmen, bartenders, and the hotel cleaning staff. Please do this; they need your tips!
The New York subway was full, but not packed. I had coffee with a former boss who lives in Manhattan and she says she still avoids the subway.
At New York restaurants and shows, be prepared to show your vaccine card and ID to get in.
Many NoVA and DC restaurants ask for proof of vaccination if you are eating indoors.
So what's it like to travel these days? On the whole, it feels great. Since last July, I've been to Santa Fe, Boston, Nashville, San Diego, San Francisco, and New York City. I'm a pretty careful traveler. I wash my hands a lot, I mask up, and I carry wipes, hand sanitizer, and extra masks. When I can, I eat outdoors. Even though I've never tested positive, my household has had COVID, so the existential fear of COVID that loomed before me is now mostly gone. 
This post is not about whether or not I think life is, or should be, back to normal. For the record, I don't think either is true. It's about travel, which for me, has been pretty joyous and safe. If and when you do decide to travel, be safe, be well.